James McAvoy, Claire Danes and Ben Stiller are among a host of Hollywood stars calling for the immediate release of 11 prominent human rights activists in Turkey.
Zoë Kravitz, Tim Roth, Mark Ruffalo, Whoopi Goldberg, Zach Galifianakis and Marisa Tomei are among the 20 celebrities who have signed a joint letter sent by Amnesty USA to the Turkish ambassador.
The letter read: "The frequent attack on human rights defenders in Turkey is unjust and simply not acceptable".
Today (12 October) marks 100 days since the wrongful arrest of 10 activists at a meeting near Istanbul, including the director of Amnesty Turkey, İdil Eser.
Taner Kılıç, Amnesty's Turkey Chair, was arrested the month before and remains in detention.
A prosecutor subsequently filed an indictment calling for jail terms of up to 15 years for all 11 activists on trumped-up terrorism charges on 4 October.
Amnesty is leading a global demand for the immediate and unconditional release of the activists in Turkey.
John Dalhuisen, Amnesty International's Europe Director, said: "One hundred days ago, our colleagues were locked up for standing up for human rights. Every passing day further exposes the long reach of the post-coup crackdown and the deep flaws in Turkey's justice system."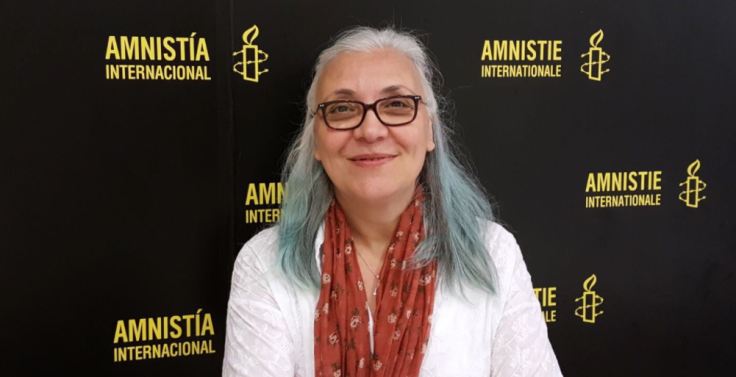 Eser – who is has been held in the highest security area of the highest security prison in Turkey since the arrest – will turn 54 on Saturday 14 October. Amnesty activists in more than 25 countries will hold a minimum of 200 parties and stunts to celebrate her birthday.
These will range from a birthday party in the European Parliament to a press conference in a makeshift prison in Madrid, where full-size paper cutouts of Eser will be present to highlight her absence.
A letter written by Eser from prison last month said: "I am sorry that I had to burden you with my own responsibilities. I am also sorry for the trouble caused to my colleagues, who have to deal with my case in addition to all the others. Together with the human rights defenders, I hope to be with you very soon."
Eser and the other activists are accused of assisting a variety of "armed terrorist organisations" with diametrically opposing ideologies.
The charges against them comprise outlandish claims that standard human rights activities such as appealing to stop the sale of tear gas, making a grant application or campaigning for the release of hunger striking teachers on behalf of terrorist organisations.
The investigation has failed to provide any incriminating evidence to substantiate the prosecutor's charges over the past three months, nor has it shown how the supposedly secret meeting relates to terrorism in any way.
The arrest of the 'Istanbul 10' took place during their attendance at a workshop on well-being and digital security on 5 July. Police raided the building and detained them all before they were held in Istanbul's police headquarters until 18 July when they appeared before a judge. This followed the prosecutor's request that they be sent to prison pending their trial.