The Liberal Democrats have achieved their lowest ever score in a voters' survey.
Nick Clegg's party has slumped to 9 percent in a poll by ComRes - just 48 hours before a crunch by-election in Eastleigh.
The party's popularity took a pounding over sex pest allegations against former Lib Dem chief executive Lord Rennard.
The deputy prime minister Nick Clegg also faced flak over the affair after it was claimed that he knew about allegations by women of inappropriate behaviour by Rennard. Clegg denied the claims.
The survey was carried out at the weekend when the claims about Rennard surfaced.
Meanwhile, Labour has surged into its biggest poll lead over the Conservative party since 2005 with 43 percent of votes from 1,005 people surveyed by ComRes.
Labour celebrated a four-point jump on January, raising hopes for leader Ed MIliband that voters were finally starting to warm to him.
The Tories dropped one point to 31 percent.
Ukip, which Tories fear could deny Prime Minister David Cameron a 2015 General Election win by splitting the rightwing vote, was on nine points.
If the proportions were repeated at a general election Labour would win a 122-seat majority, nearly double its target of 64. The Lib Dems would be reduced to a tiny rump of 18 MPs, losing 39 seats.
In the Hampshire town of Eastleigh pollsters have recorded a different picture. ILocal paper The Daily Echo showed Liberal Democrats and Conservatives tied on 22 percent each with Labour languishing far behind.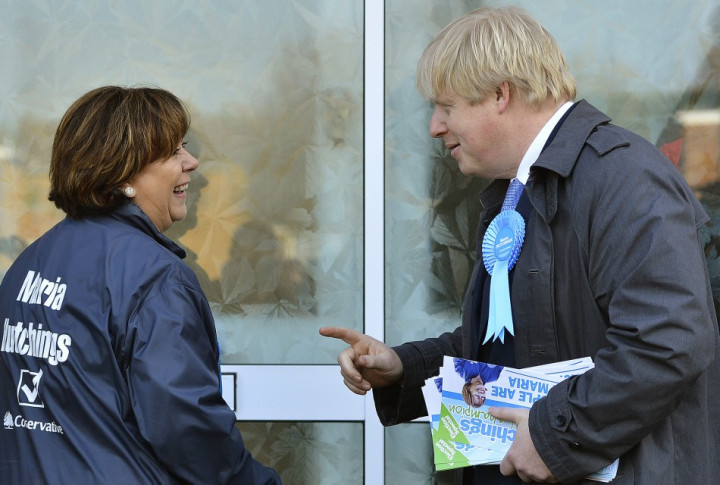 Ukip have been campaigning hard and Liberal Democrat candidate Mike Thornton is fighting off a concerted Tory push.
Labour are fielding ex-quiz show comic John O'Farrell in the campaign but expect a heavy defeat.
Even so, it is desperate to not be shoved into fourth place by Ukip, a result that would suggest that some constituencies in the south are still off-limits to Labour.
Conservative prospects in Eastleigh could also be damaged if Ukip succeed in winning enough votes by splitting rightwing support and handing victory to the Lib Dems.
The by-election was triggered by the resignation in disgrace of former energy secretary Chris Huhne. Former cabinet minister Huhne quit his seat after admitting in court to perverting the course of justice over a motoring offence.
Former wife Vickey Pryce was also charged as a result of the incident in 2003. Her trial collapsed after the jury submitted a string of questions to the judge, which made him think they had not understood the case. He dismissed the members of the jury and ordered a fresh trial.
Voters in Eastleigh go to the polls on Thursday.