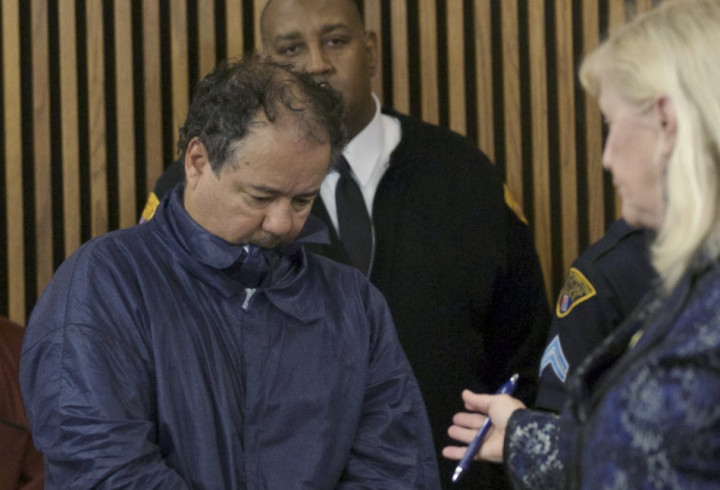 Ariel Castro, the Cleveland man accused of kidnapping and raping three women who were held captive at his house for 10 years, has appeared in court for the first time.
Castro, 52, constantly gazed down at his feet and showed no reaction as the prosecutor Brian Murphy went through the gruesome accusations arraigned against him.
Castro owned the house in which Amanda Berry, 27, Gina DeJesus, 23, and Michelle Knight, 32 were rescued after more than 10 years earlier this week.
Murphy told the court how the women were repeatedly beaten up and while in captivity.
"They were bound, they were restrained and sexually assaulted," Murphy told the court adding that "thankfully" and "miraculously" they re-emerged and are now free.
The former school bus driver was charged with four counts of kidnapping - encompassing the three women and Berry's six-year old daughter, who she bore in captivity - and three counts of rape.
Judge Moore set a bond for Puerto Rican-born Castro, who was assisted by a public defender, at $2m (£1.3m) on each case, totalling $8m.
Castro was handcuffed and never spoke. No plea has been entered at this stage.
Castro's brothers Pedro, 54, and Onil, 50, who were initially detained in connection with the case, also appeared before court.
Pedro and Onil were not charged over the kidnapping and imprisoning but faced two misdemeanours accounts for carrying an open container in public and drug abuse.
Police believe they played no role in the decade-long ordeal suffered by the three victims and they are reportedly going to be released upon payment of a fine.
Police said the three women held captive at Castro's house at 2207 Seymour Avenue were only allowed out twice during the 10 years - when Castro forcibly ushered them into the garage in disguise.
They suffered prolonged sexual and psychological abuse and had miscarriages, according to a city official briefed on the case.
The women disappeared separately between 2002 and 2004 and were found earlier this week after Berry screamed for help to escape and contacted police.