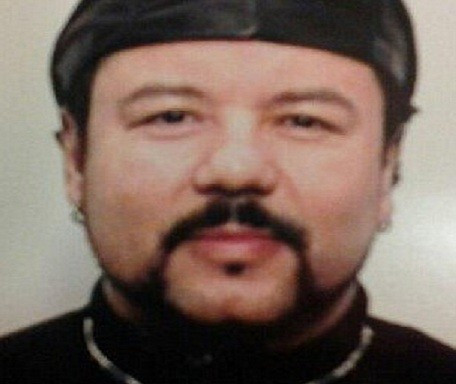 This is the first image of one of the men accused of imprisoning three young Cleveland women in plain sight for 10 years.
Ariel Castro, 52, is one of three brothers currently being held in police custody on suspicion of subjecting the women to a decade-long kidnap ordeal.
He is the middle brother of the siblings. The others are O'Neal, 50 and Pedro, 54.
Ariel, who reportedly worked as a school bus driver, was once arrested for domestic violence, but no charges were brought in the 1993 case.
According to his Facebook page, he has a love of music and plays guitar in a Latino band named Grupo Fuego. He belongs to an online community named Cleveland Puerto Ricans and has 66 friends on the social media website.
Ariel, who only joined Facebook in February, used the site to post a message just days before Amanda Berry was able to escape and alert police. He wrote: 'miracles really do happen, God is good :).'
Berry reportedly identified Ariel Castro as her captor after she crawled out of the home where she had been prisoner with Michelle Knight, Gina DeJesus and a six year-old girl - reportedly the daughter of one of the victims.
All three women were found only a few miles from where they vanished without trace a decade ago. Relations feared they were dead or sold into slavery.
But Berry was finally able to escape while her captors were not in the home - located in an ordinary surburban street in Cleveland - and ensure the rescue of her fellow captives.
'I heard screams while I was eating McDonalds'
Ariel Castro's neighbour Charles Ramsey heard Berry screaming behind the front door of the home which was her prison.
He told local TV network WEWS-TV: "I heard screaming. I'm eating my McDonalds. I come outside. I see this girl going nuts trying to get out of a house."
Berry could not open the door so Ramsey told her to kick out the bottom and crawl through the gap.
She then called police in a message released to the media. In it Berry tells the emergency operator: "I'm Amanda Berry. I've been kidnapped, and I've been missing for 10 years. And I'm here. I'm free now."
Berry went missing aged 16 in 2003 as she returned home from work at Burger King.
Knight vanished in 2002. DeJesus was a schoolgirl aged 14 when she disappeared on her way home from school.