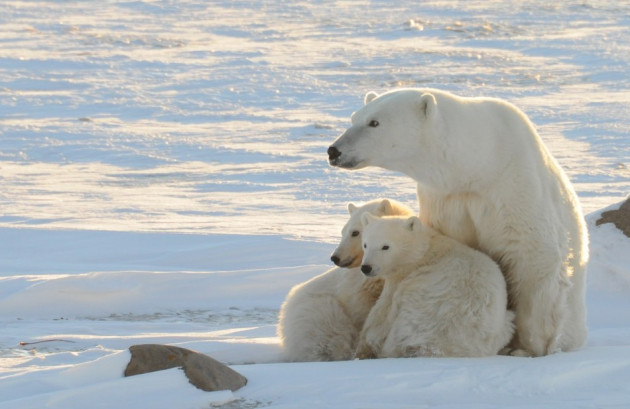 Climate change sceptics are provided a more prominent voice in the media in the UK and the US.
The Institute of Physics has found that compared to other countries, newspapers in both the UK and the US offer a platform for global warming sceptics that is often uncontested.
An audit of over 2,000 newspaper articles from the US, UK, Brazil, China, India and France found that one in nine articles contained a sceptical tone in regards to global warming.
The research showed that 19 per cent of Guardian/Observer and Daily/Sunday Telegraph had a sceptical voice, while this was true of 34 per cent of stories in the New York Times and Wall Street Journal.
In comparison, Brazil had just three per cent of sceptical stories, India and France had six per cent, while China had seven per cent.
Further to this, there was a significant amount of opinion pieces with sceptical views.
Lead author of the study, James Painter, said: "These results are significant because they do seem to support those who argue that climate scepticism is much stronger in 'Anglo-Saxon' countries."
Below are the top ten climate sceptics and their views on global warming:
Nigel Lawson:
Lawson was the Chancellor of Exchequer under Margaret Thatcher and now a prodigious journalist. He first made his sceptical thoughts on global warming known in 2004, following which he published Centre for Policy Studies, An Appeal to Reason: A Cool Look at Global Warming, in 2006.
In the book, he claims 'climate alarmists' are scaremongering, and that while global warming is occurring, it is not at the rate proposed by many scientists.
In 2009, Lawson founded the Global Warming Policy Foundation, which deals "solely with the possible effects of any future global warming and the policy responses that may evoke".
Last year, the politician responded to David Attenborough's TV series Frozen Planet, in which the naturalist said melting ice could be causing a decline in the polar bear population.
Lawson said: "When it comes to global warming he [Attenborough] seems to prefer sensation to objectivity.
"Had he wished to be objective, he would have pointed out that the polar bear population has not been falling, but rising."
James Delingpole
"There has been no global warming since 1998," wrote James Delingpole, a journalist who contributes to the Telegraph and the Times.
On his personal website, Delingpole notes that one of his dislikes is "the 'global warming' myth", and in his new book, Watermelons: The Green Movement's True Colours, he looks into the backgrounds of the organisations who have "sought to push global warming to the top of the political agenda".
In the book, Delingpole says climate change is not a scientific battle, but an ideological one.
In 2011, Delingpole appeared on the BBC Horizon programme, Meet the Climate Sceptics. During an interview, he admitted he did not read peer-reviewed literature about the subject because it is "not his job" as he does not have a scientific background.
In September, Delingpole announced that he was running in the Corby by-election to fight against proposed wind farms. He said: "I hereby announce my intention to stand in the Corby by-election as the anti-wind farm candidate. Not in my back yard. And not in yours either!"
Christopher Monckton
The former journalist and British politician once described global warming as the "largest fraud of all time" and has travelled the world giving speeches on the issue.
In an interview with the Guardian, Monckton claimed to have read all 928 major climate change scientific papers and told the newspaper: "Basically I think there is very little for us to worry about at all.
"I said there are so many uncertainties that the exaggerated figures we are getting of up to 10C increase in temperature by the end of the century are simply not plausible in any calculation you would care to do."
In 2010, Monckton entered into a dispute with Professor John Abraham, a top American science professor, who challenged the Monckton's views, calling them "very misleading" and "profoundly wrong". Following this, Monckton produced a 99 page response, in which he accuses Abraham of lying and demanded he be brought to account.
He said: "Now you will understand why I have already initiated the process of having Abraham hauled up before whatever academic panel his Bible College can muster, to answer disciplinary charges of wilful academic dishonesty amounting to gross professional misconduct unbecoming a member of his profession."
Gina Rinehart
The Australian mining tycoon, who is one of Australia's richest people, says she does not believe in climate change and has spoken out against carbon tax. She is also a supporter of fellow climate change sceptics Christopher Monckton and Professor Ian Pilmer.
In a 2011 interview with Mining Australia magazine, Rinehart said that carbon-induced global warming was a "fear campaign".
Rinehart explained that even before humans walked the earth, the planet went through periods of ice ages and global warming.
She said: "I am yet to hear scientific evidence to satisfy me that if the very, very small amount of carbon dioxide in the atmosphere (approximately 0.83 per cent) was increased, it could lead to significant global warming.
"I have never met a geologist or leading scientist who believes adding more carbon dioxide to the atmosphere will have any significant effect on climate change, especially not from a relatively small country like Australia."
Richard Lindzen
Richard Lindzen is a US atmospheric physicist and dynamical meteorologist who, in an editorial for the Wall Street Journal, said "claims that climate change is accelerating are bizarre".
He said the current scientific data about climate change is poor and that because the changes in temperature are so small, "it is easy to nudge such data a few tenths of a degree in any direction".
Lindzen said that as there was a mini ice age between the 15th and 19th centuries, coupled with the industrial era, it is unsurprising temperatures have increased.
He wrote: "At this point there is no basis for alarm regardless of whether any relation between the observed warming and the observed increase in minor greenhouse gases can be established."
Criticising Lindzen's assertions that there are uncertainties in current data, a team of researchers wrote: "[Lindzen] is right to draw attention to uncertainties in climate change feedbacks ... However, it is wrong to infer from this that we know nothing about these feedbacks.
"Contemporary science suggests unambiguously that there is a substantial risk that these feedbacks will lead to human induced surface temperature change considerably."
Jim Inhofe
Jim Inhofe, Republican Senior US Senator for Oklahoma, has said the Bible proves that global warming is wrong. He has written a book titled: The Greatest Hoax: How the Global Warming Conspiracy Threatens Your Future.
Earlier this year, Inhofe appeared on the radio programme Voice of Christian Youth America, during which he was asked about a specific verse her refers to in his book.
He responded: "Well actually the Genesis 8:22 that I use in there is that 'as long as the earth remains there will be seed time and harvest, cold and heat, winter and summer, day and night,' my point is, God's still up there. The arrogance of people to think that we, human beings, would be able to change what He is doing in the climate is to me outrageous."
In 2005, during George Bush's presidency, Inhofe voted against a bill for mandatory reductions in carbon emissions. The proposal was to cap greenhouse gases to levels seen in 2000, but the senate voted against it, with 52 votes to 45.
Ian Plimer
Ian Plimer is a professor of geology at the University of Melbourne. He believes climate change is not caused by carbon emissions, but claims volcanoes are to blame.
His 2009 book, Heaven and Earth: Global Warming - The Missing Science, argues that mainstream scientists are encouraged to identify a link between CO2 and global warming because of research grants.
According to the Daily Telegraph, he said: "We cannot stop carbon emissions because most of them come from volcanoes. It is a normal element cycled around in the earth and my science, which is looking back in time, is saying we have had a planet that has been a green, warm wet planet 80 per cent of the time."
Plimer was widely criticised by scientists about his book. Professor David Karoly, from the University of Melbourne's School of Earth Sciences said: "Given the errors, the non-science, and the nonsense in this book, it should be classified as science fiction in any library that wastes its funds buying it."
Christopher Booker
Christopher Booker, journalist and founding member of the Private Eye, regularly makes his views on climate change known in his Sunday Telegraph column and has written a number of books on the subject.
In one of his columns from 2008, Booker says that sea ice has expanded in recent years and that the number of polar bears has risen. He called the Climate Change Act 2008 the "most expensive piece of legislation ever put through Parliament", and claims the government's "carbon obsession" will see the cost of new housing skyrocket.
Another column from 2011 reads: "The global warming scare is far and away the greatest scientific scandal of our generation.
"When we then contemplate the insanity of the measures the politicians have imposed on us in consequence, we know we are looking at a collective flight from reality which has no precedent in the history of the world."
Bjørn Lomborg
Bjørn Lomborn is a Danish academic best known for his 2001 book The Skeptical Environmentalist. He was known as one of the biggest climate change sceptics for a long time, after saying the planet should adapt to global warming instead of trying to prevent it.
Lomborn also accused scientists of exaggerating the effects of climate change and said that while global warming is happening, government money would be better spent on reducing diseases such as AIDS and malaria.
However, the author made a U-turn in his opinions regarding climate change in 2010, when he said billions should be invested to fight the issue.
He said: "Investing $100bn annually would mean that we could essentially resolve the climate change problem by the end of this century."
Despite this, Lomborn still asserts climate change is not the huge problem many make out. He told the Guardian: "The point I've always been making is it's not the end of the world. That's why we should be measuring up to what everybody else says, which is we should be spending our money well."
Owen Paterson
Although Owen Paterson has never confirmed or denied being a climate change sceptic, the Secretary of State for Environment, Food and Rural Affairs has been dogged by rumours about his attitude to global warming.
In order to solve the query, the Guardian asked DEFRA about Paterson's thoughts on global warming. In response, a spokesperson said "One of these issues is the impact of climate change and the Secretary of State is committed to exploring and developing the response required by Government, business and communities."
According to the website theyworkforyou.co.uk, Paterson "Voted moderately for laws to stop climate change". Both Nigel Lawson and James Delingpole have made their support of Paterson know.
In September Delingpole wrote: "Paterson is a man of principle and a fighter and may prove much more reluctant to be trampled on than was his chocolate fireguard of a predecessor, Caroline Spelman.
"He is pro fox hunting; pro shale gas; pro free markets; he is anti-wind farms; anti-gay marriage. The kind of sound Tory MP you almost feared they didn't make any more."