Spotify can now help you put together that perfect rainy day playlist with Climatune, a new service developed in collaboration with AccuWeather that automatically generates soundtracks based on the local weather.
Climatune pinpoints your location and then compiles a list of 30 tracks to capture the mood where you are, based on the weather. For example, it might play you the sensuous sounds of Café del Mar while you're relaxing on the golden beaches of Ibiza, or Oasis' melancholic Wonderwall on a particularly grey and miserable day in old Blighty.
The service, which is currently only accessible through a dedicated website, is the result of a year-long study that involved analysing 85 billion anonymised streams on Spotify and looking at the impact weather had on their music choice.
Perhaps unsurprisingly, the study found that people tended to listen to more uplifting, energetic songs on sunny days, while on rainy days listeners opted for sadder, acoustic-heavy music.
It offered some interesting insights into some of the 900 participating US cities. For example, people in Chicago bucked the trend by listening to happier music when it rained. Meanwhile in Miami and Seattle, more energetic electronic music was found to be more popular on cloudy days.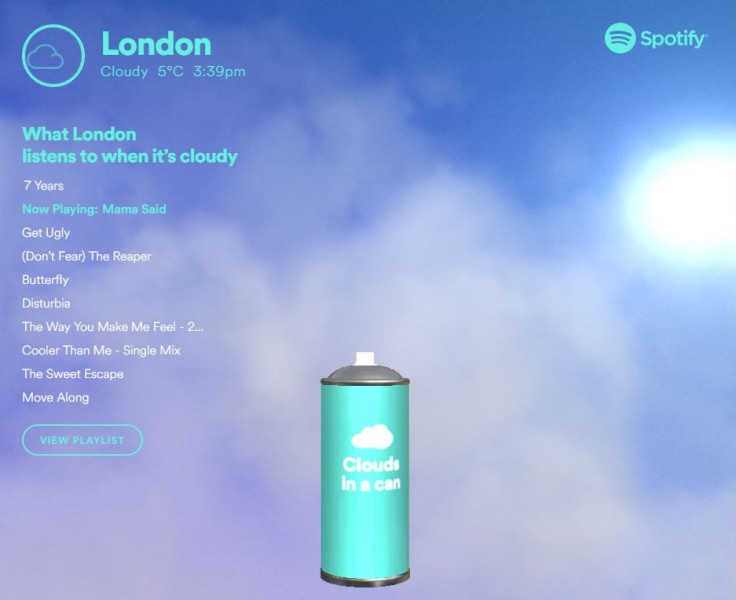 We tested out Climatune for ourselves on what was a pretty cloudy day in London. The website threw up a somewhat disjointed mix of Lukas Graham, Rihanna, Blue Oyster Cult and Michael Jackson (we expect it still requires some tuning). From here, clicking on the View Playlist link takes you to the playlist on Spotify, which in our case was labelled vLondon GB Cloudy Tracks.
Utterly unsurprisingly, the researchers behind Climatune found that sunny weather had a bigger impact on European citizens. "There is a clear connection between what's in the skies and what's on users' play queues," said Spotify data researcher, Ian Anderson.
"For almost all of the major cities around the world that we studied, sunny days translate to higher streams of happier-sounding music."
You can try out Climatune for yourself here.