Clinton turns up the heat on Trump over 'casual comments, cruelty and inciting of violence'
US Secret Service reportedly spoke to Trump over gun remarks, but he denied the 'dishonest' claims.
Hillary Clinton highlighted the "tremendous consequences" words can have as she blasted rival Donald Trump for his "casual inciting of violence". The stern response from the Democratic nominee came after Trump appeared to call on pro-gun supporters to stop Clinton from appointing justices to the Supreme Court who could weaken gun rights.
"Words matter, my friends," Clinton said at a rally in Des Moines, Iowa. "And if you are running to be president or you are president of the United States, words can have tremendous consequences."
Seizing on Trump's latest string of controversies, the former Secretary of State added: "[On 11 August] we witnessed the latest in the long line of casual comments from Donald Trump that cross the line. His casual cruelty to a Gold Star family, his casual suggestion that more countries should have nuclear weapons. And now his casual inciting of violence.
"Every single one of these incidents shows that Donald Trump simply does not have the temperament to be president and commander in chief of the United States."
Speaking at a North Carolina rally on Tuesday (9 August), Trump said: "Hillary wants to abolish, essentially abolish the Second Amendment. By the way, and if she gets to pick her judges, nothing you can do, folks." He added: "But the Second Amendment people, maybe there is, I don't know."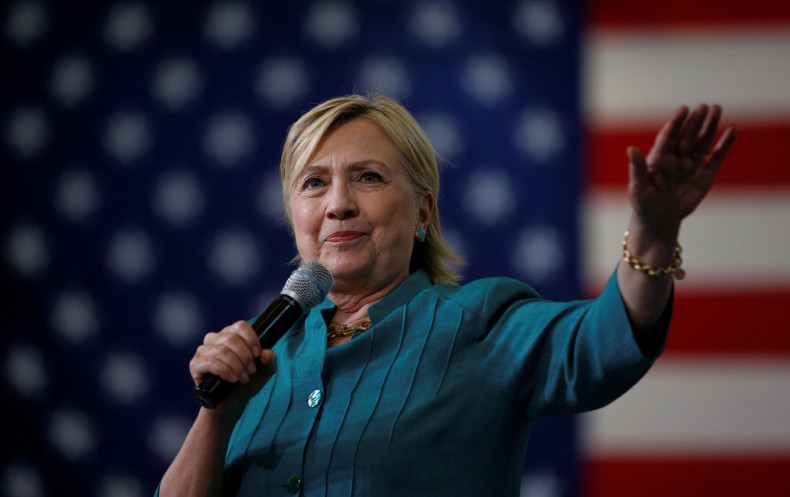 While his comments instantly drew widespread condemnation, Trump insisted in a Fox News interview that his remarks were a rallying cry for political action, not violence. "There is tremendous political power to save the Second Amendment, tremendous," he said. "And you look at the power they have in terms of votes and that's what I was referring to, obviously that's what I was referring to, and everybody knows it."
A CNN report claimed the US Secret Service has spoken to the GOP nominee's campaign about the Second Amendment comments. An unnamed official was quoted as saying that "there has been more than one conversation", but it is not clear when the discussion took place.
Trump denied the claim. He tweeted: "Reuters just announced that Secret Service never spoke to me or my campaign. Made up story by @CNN is a hoax. Totally dishonest."
Pouncing on the opportunity to garner support from Republicans disenchanted with Trump, Clinton's campaign launched Together for America, a group made for GOP defectors. It aims to "lead the Hillary for America campaign's recruitment and outreach to the growing number of Republicans and Independents who are stepping forward to endorse Hillary Clinton for president," the Atlantic reported.
On Monday (8 August), 50 top Republican national security officials signed an open letter stating they would not vote for Trump.
In a damning review of Trump, the letter said he "lacks the character, values and experience to be president." It went on to criticise the New York businessman for being "unable or unwilling to separate truth from falsehood" and called him "dangerous."