Khizr Khan to Trump at the DNC: 'Have you read the Constitution? You have sacrificed nothing!'
Khan's son, US Army Captain Humayun Khan, died while saving his fellow soldiers in a 2004 suicide attack.
The father of a Muslim soldier who was killed in action did not mince his words against Donald Trump during his speech on the final night of the DNC on Thursday (28 July). Khizr Khan, who referred to himself as a patriotic Muslim, repudiated Trump's proposal to ban Muslims and even offered to lend the Republican nominee a copy of his Constitution.
Khan's son, US Army Captain Humayun S. M. Khan, was killed in 2004 when suicide bombers targeted his infantry unit in Baquba, Iraq. Khan spoke of his son's patriotism, valour and sacrifice for the United States. He then delivered a sharp rebuke of Trump's campaign rhetoric.
"Our son Humayun had dreams...of being a military lawyer, but he put those dreams aside the day he sacrificed his life to save the lives of his fellow soldiers," Khan said. "Hillary Clinton was right when she called my son 'the best of America.' If it was up to Donald Trump, he never would have been in America."
According to Slate, the 27-year-old Army captain was born in the United Arab Emirates but grew up in Maryland and went on to attend the University of Virginia. During his deployment to Iraq, the younger Khan was inspecting the gates of his camp when a speeding car with two suicide bombers and large amounts of explosives approached. Khan had his fellow soldiers hit the ground as he took 10 steps towards the vehicle. The car exploded, killing Khan and injuring 10 soldiers.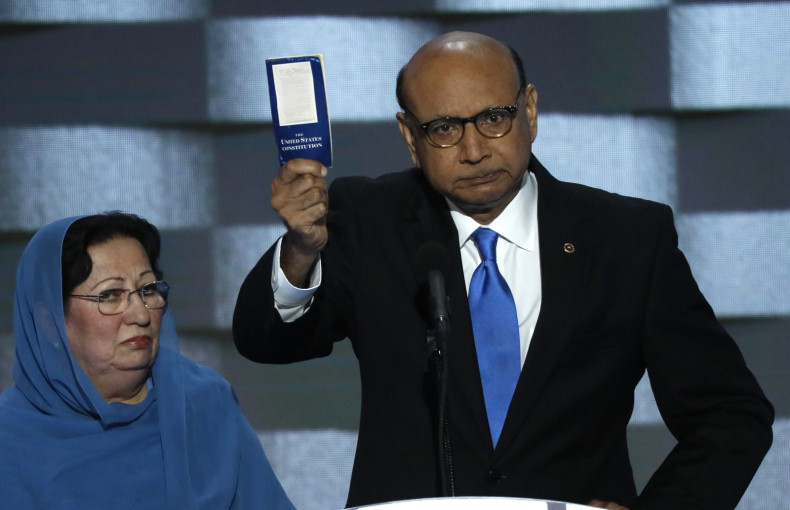 He was posthumously awarded the Bronze Star and the Purple Heart, Slate reported.
"We still wonder what made him take those 10 steps," Khazir Khan said. "Maybe that's the point where all the values, all the service to country, all the things he learned in this country kicked in. It was those values that made him take those 10 steps. Those 10 steps told us we did not make [a] mistake in moving to this country."
Khan then turned his attention to Trump, who he urged to visit Arlington National Cemetery to read the names of the veterans who served the US, Mother Jones reported. He noted that the names would reveal people of all religions, ethnicities and genders.
"Donald Trump, you are asking Americans to trust you with their future. Let me ask you: Have you even read the United States Constitution? I will gladly lend you my copy," Khan said as he pulled out his pocket Constitution. "In this document, look for the words liberty and equal protection of law. Have you ever been to Arlington Cemetery? Go look at the graves of brave patriots who died defending [the] United States of America. You'll see, all faiths, genders and ethnicities. You have sacrificed nothing and no one."
He continued: "We cannot solve our problems by building walls, sowing division. We are stronger together. And we will keep becoming stronger when Hillary Clinton becomes our president." Khan then called on all immigrants to "not take this election lightly. This is a historic election and I request to honour the sacrifice of my son. And on Election Day, take the time to get out and vote. And vote for the healer, vote for the strongest, most qualified candidate, Hillary Clinton, not the divider."