A couple were arrested and their four young children taken into the care after police found several bags of suspected cocaine hidden inside nappies in a house where cannabis was being grown.
Avon and Somerset Police raided the property in Withywood, Bristol, on Thursday (27 April) after a drugs warrant was issued.
The constabulary said the children, aged between just a few months and five years, were sleeping on two mattresses alongside 40 cannabis plants with an estimated street value of between £5,000 ($6,476) and £15,000.
Also inside the home, the force found a large amount of suspected cocaine, which had been concealed inside baby nappies.
In police footage taken inside the home bags of rubbish, mouldy food, furniture and clothes were spotted strewn across the floor of the property, which had no carpet.
Avon and Somerset Police have arrested a 35-year-old man and 28-year-old woman on suspicion of possession with intent to supply.
The force said they found drugs paraphernalia, including plates used to crush drugs, snap bags and cutting agent, which were seized.
PC Richard Jeffery said after the arrest that the children were found in "disgusting" conditions.
"A short time ago, we issued some video footage showing children living in disgusting conditions due to drug dealing at their home and appealed for help from the public to put a stop to this," said Jeffery.
"The warrant we did yesterday was at the home of children aged between five and just a few months.
"It's genuinely upsetting to find and just makes us more determined to keep asking for and acting on the information we need."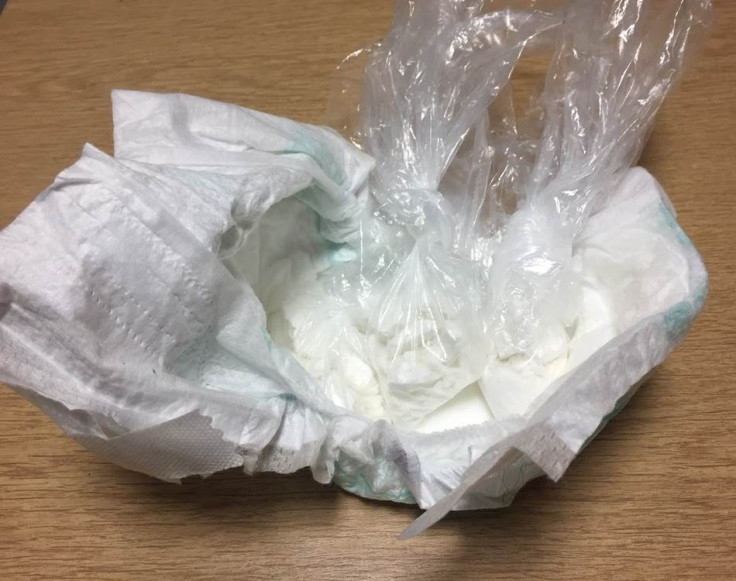 In January this year, a drug smuggler who helped hatch an "ingenious" plot to smuggle £2m ($2.6m) of pink liquid cocaine into the UK was jailed for 16 years.
Errol Watson, 54, tried to fool border police at Gatwick Airport by hiding 26kg of the class A drug inside metal canisters disguised as oil filters in July 2016.
And in Spain in March this year authorities have confiscated a total 17kg (37lbs) of cocaine stuffed in fake and real bananas. Ten kilogrammes of the powder was hidden among 57 fake bananas and another 7kg in cardboard boxes containing real bananas in Valencia and Malaga.