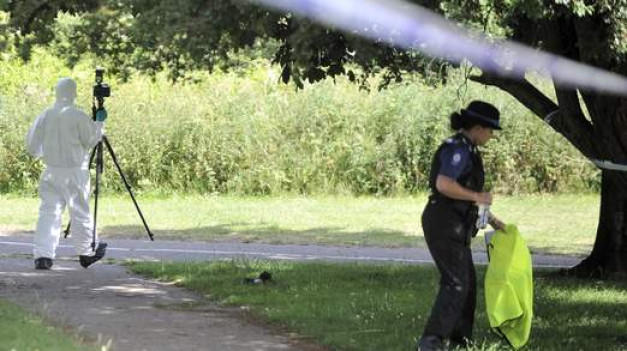 Police investigating the murder of a Muslim woman in Colchester are warning people not to go out alone in the area.
Nahid Almanea, 31, was killed as she walked along a Colchester footpath on Tuesday (17 June) morning.
Essex police have revealed that she was stabbed 16 times. They are now investigating whether the murder was racially motivated.
Almanea was wearing a full-length robe, known as Abaya as well as a Hijab headscarf.
It is the second knife murder in Colchester in the space of three months. A vulnerable man, who had a brain injury after being hit by a car four years ago, was stabbed to death near Castle Park in Colchester in the early hours of the morning on March 29.
A post-mortem examination found 33-year-old James Attfield had been stabbed more than 100 times.
Chief Inspector Richard Phillibrown said: "It's true that we've two knife murders in Colchester in less than three months, where the motive remains unknown.
"I urge everyone in Colchester to be vigilant. The similarities between those two offences will be drawn.
"It's important that people are aware of their own surroundings, that they don't go out alone in isolated places, that they take sensible precautions."
A 52-year-old man arrested in connection with the incident has been released after police said he had been positively eliminated from their enquiries.
The murder has sparked fears of a revenge attack.
Fanatic Abu Rashash Britani, who has previously claimed that he and other insurgents will return to Britain after they finished fighting in Iraq and Syria, has demanded retribution for the murder of a Muslim woman.
He tweeted: "These kuffar getting out of hand, dare they touch a #Muslimah. I call upon any brother to take up a knife and kill as they did #colchester."
Twitter have since disabled Britani's account.
Prime Minister David Cameron had warned that ISIS was plotting terror attacks on the UK.
Essex Police have issued CCTV footage of Ms Almanea walking along the footpath and an image of a black and orange bag she was carrying at the time she was killed.
Anyone who saw a woman walking though the Greenstead estate on Tuesday morning has been asked to contact officers on 101 with any information.