An aspiring entrepreneur has turned his experience of being bullied into a business idea after being mocked about his height.
Jaber Shah, a student at Barking and Dagenham College, helped found "I'm Different" - a business concept which celebrates equality and diversity by offering customisable t-shirts with positive slogans.
The idea propelled the 18-year-old and his team to the finals of the Market Maker Competition at the Institute of Directors.
The event, which was organised by Gazelle Colleges, enabled college students throughout England and Wales to demonstrate their skill as entrepreneurs, employability, personal and social skills by developing innovative business concepts.
Shah said he was picked on throughout his school career, yet he had been inspired to create I'm Different.
"After a little while you get used to the bullying, so it didn't impact," he added. "But first when the bullies started doing it, it really got to me. It made school hard."
But Shah turned his experiences into a positive with I'm Different.
"We believe that everyone is different in their own way and we believe they should show it via the garments they wear," Shah explained.
The college student said his own self-deprecating personalised t-shirt - I may be SMALL, but I got it ALL - meant that people laughed with him, rather than at him.
Robot Linguistics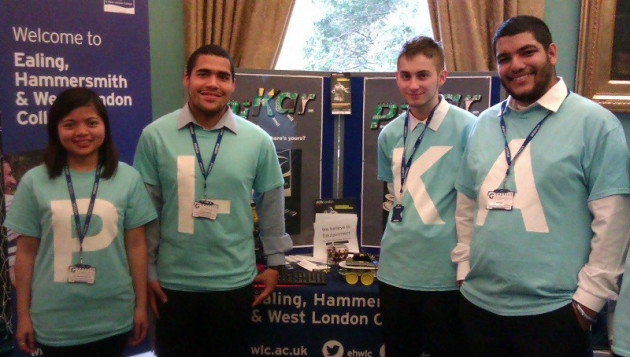 Pi-Kar, the team from Ealing, Hammersmith and West London College, took a more high-tech approach to the competition.
The college students created a programmable robot which can be used as a learning device.
The vehicle, which has a Raspberry Pi interface, is controlled using computing language python.
Kamil Stepien, the team's engineer, explained that the device is designed to help students learn the programming language through a fun and accessible tool.
"We built all of the robot by ourselves," the 20-year-old said. "We did a lot of research and it took two months to create the concept."
Stepien explained that the team's original concept was to create the vehicle with Lego parts, but the material was not compatible.
The competition marks the start of the Global Enterprise Week.
The event is the world's largest campaign to promote entrepreneurship by encouraging young people to consider starting up their own business.