In an historic breakthrough to end a 52-year bloody insurgency, Colombia and Farc rebels have reached a peace deal in Havana.
"The war is over," declared Colombia's chief negotiator Humberto de la Calle.
"I think we have won the most beautiful battle: the peace," said Farc commander Iván Márquez.
"Today begins the end of the suffering, the pain and the tragedy of war," President Juan Manuel Santos said in a nationally televised address after the agreement was announced, the New York Times reported. "Let's open the door together to a new stage in our history."
President Obama phoned Santos to congratulate him. Thrilled Colombians poured into the streets of cities to celebrate the deal that ends a war which has cost 220,000 lives, displaced 5 million Colombians and fuelled fear with kidnappings and massacres.
Under the agreement – which must still be ratified in a national vote 2 October – Farc soldiers will lay down their weapons, leave their jungle camps and gradually reintegrate into Colombian society, with the help of government training programs.
FARC leaders will be welcome to launch a political party to attempt to win seats in Colombia's Congress, CNN reported.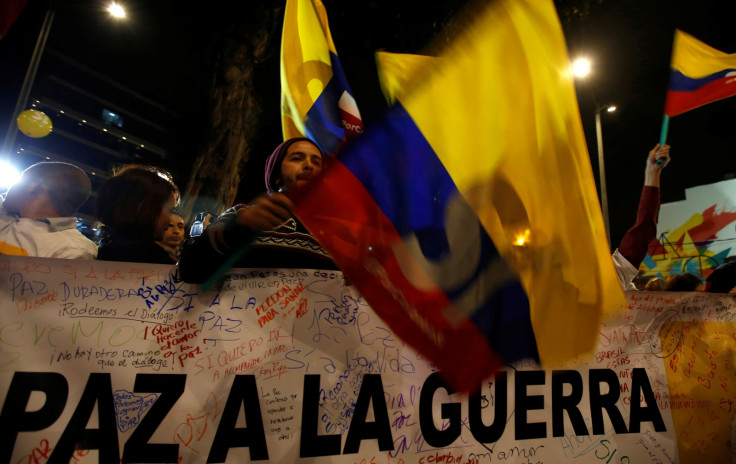 A sticking point remains in the upcoming national referendum to ratify the deal. While Santos will sell it to his people, his predecessor, former president Alvaro Uribe, is expected to lead the opposition. Members of a growing campaign already developing against the pact believe the deal is too soft on the rebels, who have now been invited into the government.
Representatives of Farc and the nation had been working towards a peace settlement for nearly four years. They have struggled to not only end the fighting, but have also addressed issues of land reform, repatriation for the families of victims, and meting out justice to those suspected of human rights abuses.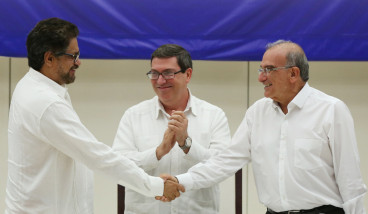 The final stage of the deal began with a ceasefire in June. Inspired by the Cuban revolution, the fearsome Marxist Farc, the Spanish acronym for the Revolutionary Armed Forces of Colombia, had originally sought a wholesale redistribution of wealth throughout Colombia.
But as fighting dragged out over decades, critics accused Farc's 7,000 soldiers of becoming a narco-terrorist force, reaping millions of dollars from cocaine shipments to the US.
Billions of dollars in US counterinsurgency aid helped the government turn the tide against Farc.
The agreement will try to resolve past grievances quickly. Under a so-called transitional justice system, all but the worst crimes may be resolved with reduced sentences.
But old wounds may not be salved so easily. Silvio Hernández, whose soldier son was killed by the rebels, fears the agreement will not bring justice.
"The Farc are not going to pay for the crime against my son," he told the Times. "It's good that we are reaching peace, but this leaves me with many doubts."