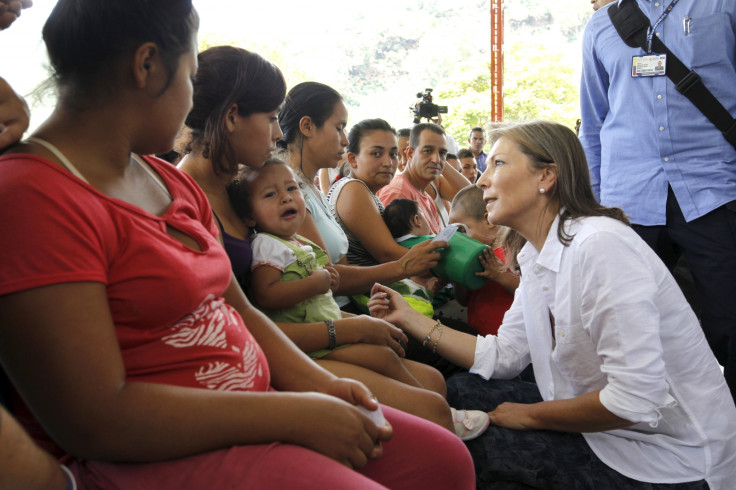 Colombians are rejoicing over the survival and rescue of an 11-month-old baby who was swept away during a devastating landslide that has claimed at least 78 people. Among those lost were the child's mother and 11 other relatives.
According to The Guardian, Jhosep Díaz was discovered face-down in the mud on 18 May over half a mile from his home. Baby Díaz was swept away in a flash flood that destroyed dozens of homes in the mountain town of Salgar.
The baby was found to be cold and near hypothermia, a doctor who treated him said. However, baby Díaz was spared greater injury thanks to the padded crib he was in as he was carried away.
Dr Jesus Antonio Guisao told The Associated Press on 20 May: "He was unconscious and didn't open his little eyes but was breathing." The boy's vital signs were stabilised and he was taken to a Medellín hospital, The Guardian reported.
The baby suffered multiple cuts and some bruises along with a broken rib, doctors said. However, he continues to be monitored and is recovering well.
Baby Díaz's paternal grandfather Alvaro Hernandez told reporters that four other family members were still missing but they are believed to be dead. The grandfather is expected to gain custody of the baby since the child's father was killed a year ago.
"Amid so much bad news concerning the death of 16 of our relatives, my grandson's survival is a miracle," Hernandez said to the AP.
Despite celebrations following the baby's rescue, Colombian officials said on Wednesday that there is no hope they will find any more survivors. A team of 300 search and rescue continued to search the neighbourhoods affected, the AP reported. According to the Red Cross, between 50 and 80 people remain missing.
The landslide is the worst natural disaster in Colombia since an earthquake in 1999.