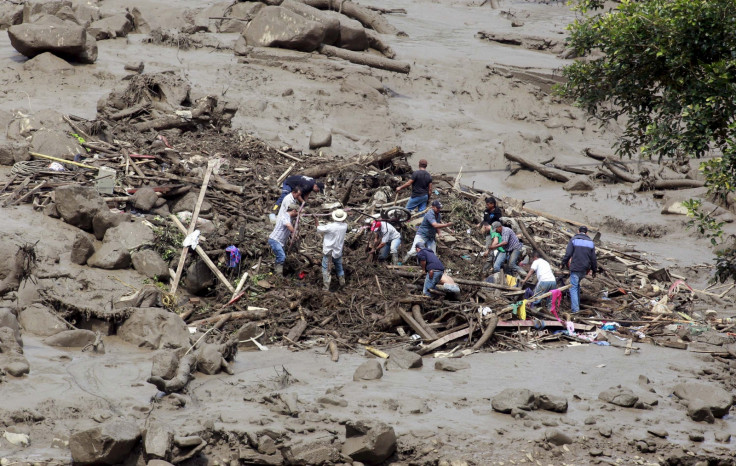 At least 52 people have been killed and 200 are missing following a deadly mudslide in northwestern Colombia.
Mud gushed into buildings after flooding caused by heavy rain in Antioquia province. The victims were fast asleep in their houses when the mudslide struck at 03:00 am local time.
Olga Eugenia Osorio, the mayor of Salgar, told radio station RCN that the village of Santa Margarita has been "erased from the map".
Local reports suggest more than 200 people are still unaccounted for but authorities say they could not estimate the count.
"We don't even know the dimension of the disaster. It could be there are many dead near the shores [of the Liboriana river]. It is very difficult to access," said President Juan Manuel Santos, who has flown to Antioquia.
"We cannot bring the dead back, which we regret deeply, and we will support the families (of the victims). But we have to move on from this tragedy, and look ahead with courage and fortitude."
At least 37 people have been admitted to hospitals following injuries sustained in the mudslide. Helicopters and army personnel have joined emergency operations.
Power supply and gas services were cut off as a precautionary measure on the eve of the disaster.
Recounting the ordeal, a resident named Jorge Quintero told the RCN network: "When I felt my house shaking we got out, my family and me. When we got out, we were stuck in the middle of the landslide, it was coming from both sides and we were in the middle."
"I said to my wife, let's hold each other and hope that God saves us and I know he gave us his hand because here we are, alive, still frightened, but still alive."