Colombia suspends aerial attacks on Farc rebels for one month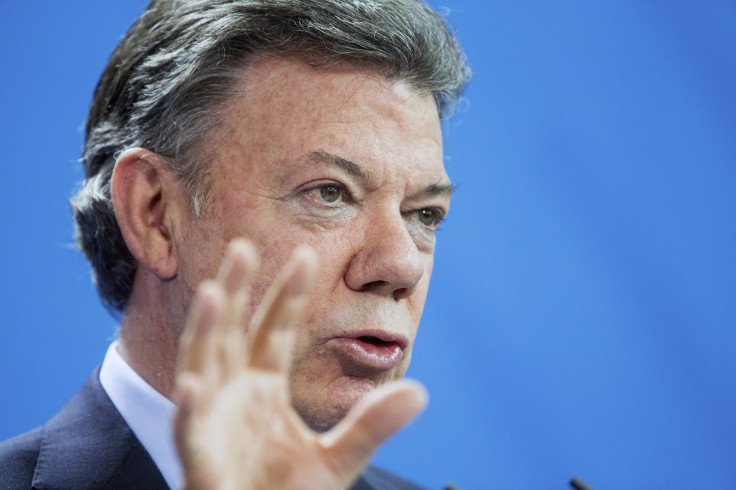 Colombian President Juan Manuel Santos has announced the government is temporarily suspending the aerial attacks on the Marxist Farc rebels.
Pushing forward the ongoing peace measures, the leader said the bombing will be halted for one month after the guerrillas declared a unilateral ceasefire.
"In regards to the indefinite, unilateral ceasefire declared by the FARC on December 18, we must recognise that they have fulfilled it," Santos said in a televised address.
"For this reason, and to propel the de-escalation of the conflict, I have decided to order the defence ministry and the leaders of the armed forces to cease bombardments over FARC camps for one month," he said.
The aerial bombardment against the Farc (Revolutionary Armed Forces of Colombia) has been a deadly method to inflict severe damage on the rebel group.
The government hinted that the suspension is likely to be extended if the rebels continue to uphold the ceasefire after the one-month duration. Santos also made it clear that the offensive against a separate rebel group National Liberation Army (ELN) will press ahead.
The rebels had called for the unilateral ceasefire after they agreed to ease the years-long conflict in the southern-American nation during the peace negotiations in Cuba. The discussions have been ongoing since November 2012.
The government's suspension of airstrikes would bring a huge relief to the 7,000-strong Farc, who have been dreading the flying warplanes for several years now.
Critics remain sceptical of the latest development saying the suspension of airstrikes provide the rebels with a breathing space to regroup themselves.
© Copyright IBTimes 2023. All rights reserved.