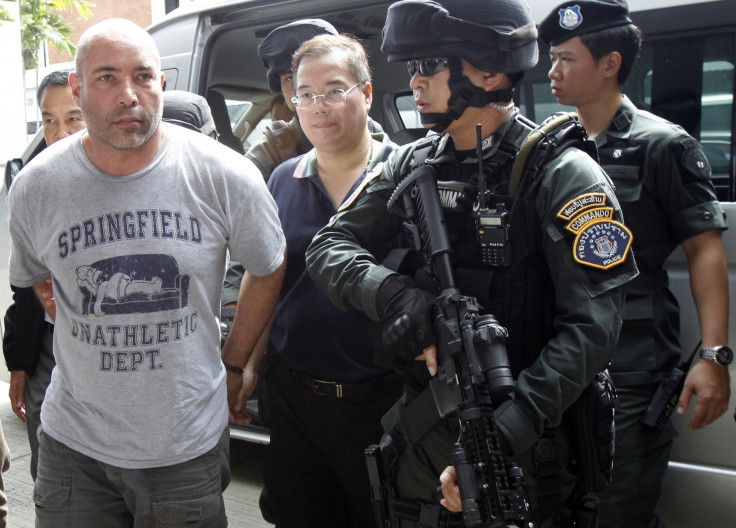 A former US Army sniper, nicknamed "Rambo", who formed a band of international assassins to carry out contract killings has pleaded guilty to conspiracy to murder.
Joseph Hunter, 49, has admitted his guilt after Drug Enforcement Agency officials posing as members of a Colombian drugs cartel persuaded him to agree to murdering a law enforcement official and two other people.
Hunter faces up to 10 years in prison.
He was arrested with four other former military snipers in 2013, after agreeing to provide security and surveillance services for members of a Colombian drugs cartel, who were in fact DEA agents.
He is the fourth man to plead guilty after US Army Sergeant Timothy Vamvakias, former German sniper Dennis Gogel, and former Polish sniper Slawomir Soborski.
Hunter allegedly told them that if they provided security for the cartel they "could expect to 'see tons of cocaine and millions of dollars'," according to court documents.
The fifth alleged member of the gang, German sniper Michael Filter is scheduled to go on trial next month.
In a series of meetings in 2013 in Asia, Africa and the Caribbean, Hunter met the undercover agents and agreed to provide security for the cartel.
He recruited the other members of the group, and agreed to assassinate an informant and DEA agent in exchange for $800,000.
The murders were never carried out.
Hunter pleaded guilty, despite believing he had been entrapped, to spare his family a public trial, his defence lawyer Michael Kirton told Reuters.
Kirton said his client's judgement had been affected by post traumatic stress and depression after two decades in the US Army.
US Attorney Preet Bharara though described Hunter as a ""soldier of misfortune who recruited and led an international band of criminal mercenaries. This global gun for hire will now be confined stateside in federal prison".