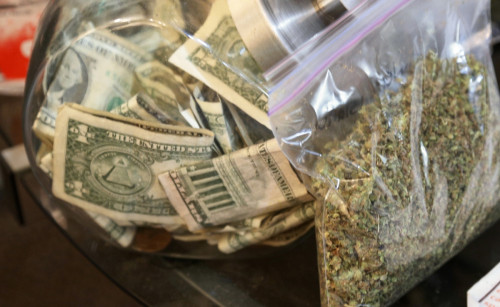 A one-year moratorium has been placed on advertising Colorado as a destination for 'pot tourism', as the state assesses the repercussions of its recent decision to legalise cannabis use.
Tourism officials said that they want to ascertain if pot tourism is viable, and will not have a negative effect on the state's image, before allowing companies to advertise.
Rich Grant of Visit Denver told Sky News: "This is an unknown territory. No one knows if people will come here as marijuana tourists and how much the industry will grow. You can't base a sound marketing decision on 10 days of business."
Cannabis producers and retailers claim that since the law was changed on 1 January, demand has been overwhelming.
According to the Medical Marijuana industry group, more than half of the $1 million daily sales in the state's dispensaries are to non-Coloradans, with the 25% pot tax believed to have generated about $2 million for the state.
Justin Jones, owner of dispensary Dank Colorado, said he had hired six extra staff to cope with demand at his Denver dispensary. "It's really a new era," Jones told the Wall Street Journal. "People are able to buy some pot like you would buy a bottle of wine."
Tour groups have already sprung up to cater for the new visitors, with one, Colorado Rocky Mountain High Tours, offering a stretched Hummer visit to each of Denver's dispensaries, and gourmet munchies.
However, since only a handful of hotels in Denver allow smoking in rooms, the budding industry has obstacles to overcome.
Given the restrictions on smoking, many dispensaries have experienced surging demand for marijuana-laced comestibles such as chocolates and cakes, with many stores having to restrict customers to two items.
One Marijuana manufacturer called Dixie Elixirs and Edibles is building a new 30,000-square-foot manufacturing facility in order to keep up with demand for their marijuana-infused sweets and sodas.
To get around the federal ban on transporting prohibited narcotics, special marijuana delivery services have sprung up in the state, and budget airline Spirit Airlines declares in one ad: "The no smoking sign is off (in Colorado). Get mile high with $10 off your next flight."
However, Grant said it was still too early to assess the impact of the legislation on the state's tourism industry.
"If there is a tour bus of 40 people, it's interesting," he told the Wall Street Journal. But, compared with the 13.6 million people who visit Denver every year, "it's not even a blip on the radar screen."