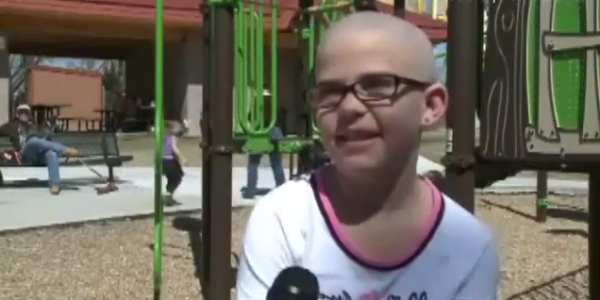 A 9-year-old girl has been banned from school after she had shaved her head in support of her friend affected by cancer.
When Kamryn Renfro arrived at the school in Grand Junction, Colorado, she was told she was violating the dress code and could not come back unless she was wearing a wig.
With her parent's approval, Kamryn had shaved her head in support of her friend Delaney Clements.
After the incident, Kamryn's mother emailed the school explaining why she got the extreme haircut, but administrators at first said they could not make exceptions.
The dress code "was created to promote safety, uniformity, and a non-distracting environment for the school's students," Catherine Norton Breman, president and chair of the academy's board of directors, said in a statement. "Under this policy, shaved heads are not permitted."
According to a staff member who spoke with FoxNews.com, the school's board of directors held a closed-door meeting that night to discuss the situation.
Kamryn was back in class the next day.
Delaney, 11, said she was really touched by her friend's gesture.
"I was really excited I would have somebody to support me and I wouldn't be alone with people always laughing at me. I would at least have somebody to go through it all," Delaney told Fox affiliate KDVR.
Charity St. Baldrick's Foundation CEO Kathleen Ruddy said the incident in Grand Junction can be a "teachable moment".
"We believe that bald is beautiful, and we believe Kamryn Renfro is beautiful for standing by her friend," Ruddy said.
"Childhood cancer is out of the closet, and it is a reality that we have to face that cancer is not going away anytime soon. It's the right thing to do to celebrate kids who are standing up for their friends," she continued.
St. Baldrick's is committed to funding the most promising research to find cures for childhood cancers; 85,000 volunteers who work for the charity have shaved more than 350,000 heads at events around the world since 2000.
"We started this foundation to raise awareness about childhood cancer and to raise money for research," St. Baldrick's co-founder Tim Kenny explained.
"The whole reason we chose head shaving was to be in solidarity with kids who are going through treatment," Kenny added. "I can't believe people could miss the point like this."