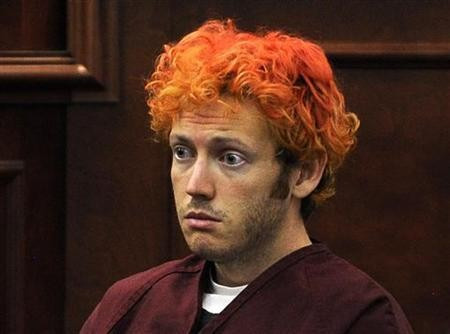 The suspect in the Colorado cinema shooting threatened one of his university professors and was banned from campus before the massacre, prosecutors said.
Newly released court documents reveal that James Holmes had threatened a professor at University of Colorado.
His defence lawyers say he was barred from entering the campus because he was about to drop out of university.
Holmes, 24, faces 152 charges including murder, attempted murder and weapons violations following the July shooting which left 12 dead and more than 50 people injured.
His lawyers argue Holmes is mentally ill, raising the possibility that he will plead not guilty on the grounds of insanity.
The latest documents show that the professor, whose name has been redacted, reported threats made against him by Holmes and the subsequent access ban.
A court previously heard how Holmes had attempted to call his university psychiatrist less than 10 minutes before the shooting at the midnight screening of the Batman film, The Dark Knight Rises, at the cinema in Aurora, Colorado.
It was revealed that Holmes had called a hospital switchboard nine minutes before the shooting, although he did not call her office.
Psychiatrist Lynne Fenton, a professor at the school, also received a notebook in the mail from Holmes that reportedly detailed his plans of the attack.
Fenton reportedly did not open the package until after the attack. Defence attorneys want to examine the notebook but do not t want it admitted as evidence on the grounds that it is s protected by doctor-patient privilege.
Prosecutors argue that the doctor-patient relationship ended on 11 June - weeks before the attack - when Fenton last saw Holmes professionally.
Chief Deputy District Attorney Karen Pearson said Holmes failed a key oral exam in June, was banned from campus and then began to voluntarily withdraw from the school.
Prosecutors raised the suggestion Holmes was angry and frustrated that a once-promising academic career was beginning to deteriorate and began to stockpile weapons, ammunition, teargas grenades and body armour before the shooting.
The attack was one of the worst mass shootings in US history.