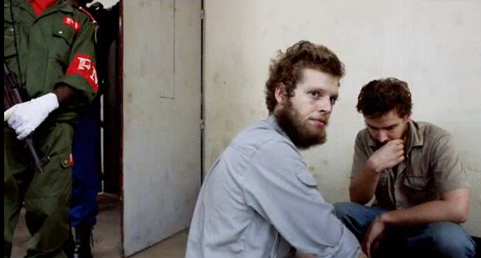 A British man imprisoned in the Democratic Republic of Congo has been sentenced to life imprisonment for the murder of his best friend, despite experts' claim that the death was a suicide, legal charity Reprieve has said.
Joshua French had been convicted, together with friend Tjostolv Moland, of murdering their driver. The two men faced the death penalty and had been held in DRC for nearly 5 years, since being sentenced to death in 2009.
Both French and Moland "had always maintained their innocence after a flawed trial which saw witnesses providing conflicting testimonies and a total lack of any physical evidence against them", Reprieve explained.
On the morning of 18 August 2013, French awoke and found his friend Moland dead.
According to the Congolese police, an autopsy conducted jointly by them and the Norwegian police agency, Kripos, confirmed that Moland had committed suicide.
"The investigation shows Moland committed suicide, and that he committed suicide by hanging himself," the army's deputy auditor Gen. Munkuto Kiyana said in a communique' in 2013.
French was tried for the alleged murder of Moland in 2013. The trial was held in a military court, in violation of international law and the DRC's own constitution.
A Congolese judge accepted defence arguments that procedures at their military tribunal hearing were flawed, the BBC reported in 2013.
"The higher military court accepts the request of the defendants, annuls the decision in all its aspects and sends the case back to the military court of Province Orientale," Col Bassolo Yeliambela, the lead judge in the case, was quoted by Reuters news agency as saying.
French's mother, Kari Hilde said in a statement released through her son's lawyers: "Joshua has already lost his best friend and nearly five years of his life. Now he's being falsely accused of murder. How much more will he have to endure before the British government takes serious action?"
Reprieve said that French had been suffering from severe mental illness throughout the trial. "He is acutely psychotic and has been refusing to eat or drink. Despite repeated and ongoing requests, Mr French has to date received only a few hours of basic care outside of Ndolo Military Prison where he is being held," Reprieve continued.
Maya Foa, Director of Reprieve's Death Penalty team, said: "Life imprisonment in the DRC for someone with such severe mental ill health as Joshua is effectively a death sentence. He is acutely psychotic and should never have been put on trial – his best friend's death was proven to be suicide. The UK government must do everything they can to get him transferred to a hospital where he can receive the medical attention he so desperately needs."