DR Congo M23 Rebellion Sparks Humanitarian Crisis [SLIDESHOW]
100,000 people displaced while rebels conquer more towns including Mushaki and repel Congolese army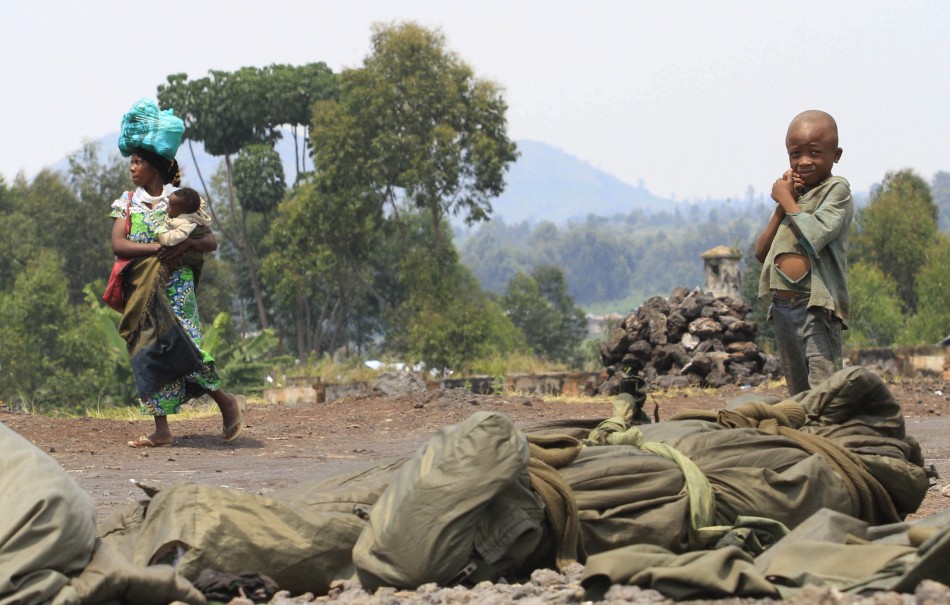 Fighting between the national army and M23 rebels is causing a huge humanitarian crisis in DR Congo, as tens of thousands of civilians flee the conflict.
Unicef said that at least 100,000 people had been uprooted by the clashes, with half of them are under 18 years old.
As the war front moved south, long lines of civilians carrying mattresses and cooking pots on their heads as well as children herding goats and other livestock were walking towards Goma, regarded as relatively safe since it fell to rebels.
About 1,000 UN peacekeeping troops are still deployed in the eastern city on Lake Kivu which fell under rebel control earlier this week and aid agencies have a significant presence there.
Many refugees arrived from the town of Sake, 20km west of Goma, where the first counterattack by the Congolese army was repelled by rebels led by Gen Bosco Ntaganda.
According to a father who returned in the city after the fight ended, Sake was nearly deserted.
"We heard shots from the hills," said Timothe Mashamba. "We fled, but now I have returned. I lost my four children when we fled and haven't found them. I am waiting for them here. I can't leave. They won't know where to find me."
The national army loyal to president Joseph Kabila was also ousted from the town of Mushaki, in the hills 20km northwest of Sake.
The army was reportedly in chaos against well-armed M23 rebels, which are said by the UN to be backed by Rwanda and Uganda.
Kabila suspended army chief of staff Gen Gabriel Amisi after reports revealed he was running a network of weapons trafficking, supplying AK-47 assault rifles and ammunition to criminal groups and rebel factions operating in east Congo.
One M23 leader, Bishop Jean-Marie Runiga, was reportedly in the Ugandan capital of Kampala for talks after Kabila met Rwandan president Paul Kagame and President Yoweri Museveni of Uganda.
"They [Kagame and Kabila] took decisions in Kampala and now they want to talk to Bishop Runiga about them. Joseph Kabila said in his communique that he would talk to us, and that is what we want," a rebel spokesman said.