Filmmaker James Wan returns to the horror genre to once again direct actors Patrick Wilson and Vera Farmiga, as they reprise their roles as real-life paranormal investigators Ed and Lorraine Warren.
Set six years after the events of the first film, this instalment sees the Warrens travel to Enfield, England to help single mother Peggy Hodgson (Frances O'Connor) and her four children, who have become the target of a particularly malevolent, supernatural entity. Most bothered by the evil spirit is Janet (Madison Wolfe), Peggy's youngest daughter, who frequently finds herself sleep-walking, waking up in different rooms than the ones she falls asleep in and constantly being terrified by various bumps in the night.
Our verdict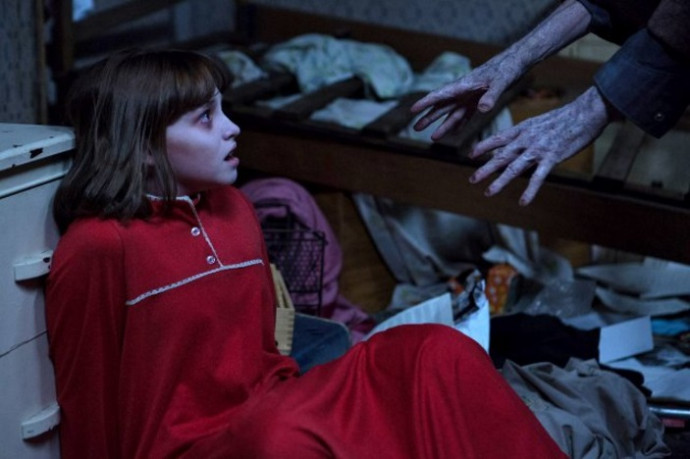 When it was released in 2013, Wan's The Conjuring was regarded as a horror film that could redefine the genre and thankfully didn't play into the found-footage tropes or exhibit excessive gore like so many scary flicks that are released these days. It received hugely positive reviews from critics and even went on to become one of the highest-grossing horror movies of all time. Needless to say, a sequel was inevitable but boy, did it have big shoes to fill. Luckily for eager fans then, that The Conjuring 2 far from disappoints.
While both films in the franchise were based on real documented cases from the careers of the Warrens, the Enfield Poltergeist was more publicised than the haunting depicted in the first movie, often being labelled as "England's version of the Amityville Horror" in 1977. Where the original film presented the events wholeheartedly as truth and there was no doubt that the Perron family were being plagued by demonic spirits, The Conjuring 2 manages to successfully tackle broader subjects such as frenzied and highly-opinionated media storms surrounding such incidents and even the idea that such things could in fact, be hoaxes.
With that in mind, the second instalment is much more ambitious than the first in scope, not only trying to scare the viewer but to evidently strike up opinions about the whole concept of the supernatural and whether its even real or not. Their obvious paralleling between reality and invisible forces is introduced swiftly in the opening sequence, which sees the Warrens briefly investigating the Amityville Horror and looking into whether Ronald DeFeo, Jr did in fact brutally murder his family while under the influence of vengeful demons.
It's a powerful beginning scene which offers up a darker look at the control these entities can have over humans and, unlike what we saw the first time round, the violent, tragic and bloody result if they are allowed to follow through with their bidding. In the short opener, we're also thrown back into the lives of the Warrens and how, despite their insatiable need to help people, their work takes a toll on them. Particularly Lorraine, who once again, Farmiga portrays with enviable strength, passion and soul, alongside the debilitating worry that we glimpsed in the first film.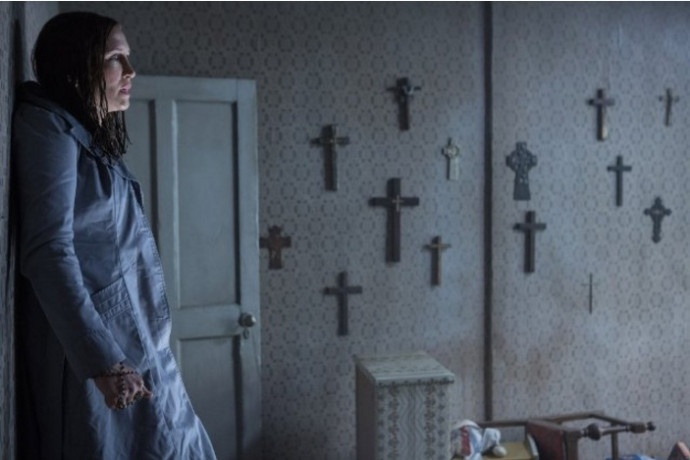 The comfortable chemistry between Farmiga and her co-star Wilson permeates every scene that they are in and both the characters and relationship they present are incredibly heart-warming. Such a refreshing change to actually feel yourself truly care about what happens to someone in a horror film.
Their treatment of the film lends itself more to drama and adds real depth to the scares, presenting a human spirit at its centre, which is crucial for these types of stories. Excusing the pun, possession is a theme done to death in horror movies and Farmiga and Wilson expertly add life to this often recycled plot by making sure we empathise... and even love the people on screen.
The twosome are certainly not the only stand-outs in the film however, as up-and-coming young star Wolfe is just as good as her adult leads. Her portrayal of terrified and helpless Janet is truly heartbreaking and yet she also manages to add a layer of sheer determination beneath her troubled exterior that makes you will her to overcome her oppressive situations – and have you believe that she could do it too.
Unfortunately, when a film is as strong as this one, its minor flaws stand out more obviously and The Conjuring 2 isn't without its own minute slip-ups. One of the many things horror fans marvelled at when it came to The Conjuring was that it felt poles apart tonally from Wan's equally as great, but undeniably campy spookfest, Insidious. Here, it leans a little too close to the latter, with heavily make-upped ghouls at every turn and jump scares playing a major part in almost every scene.
This familiar territory also rings true in other sequences in the film but with positive effect. There's homages paid to classics such as Poltergeist and Psycho, with scenes that involves a self-channel-changing TV and sparsely decorated, claustrophobic sets too. Stylistically, the film is meticulous just like the first, with every prop and backdrop a clue of what's to come next. Just don't look too hard... our eagle-eyes may have spoiled a twist at the end way before it happened.
Influenced by older movies that have come before or not, Wan's original mastery of the genre is present in every single sequence of this film, but not only that, his respect for it too. It's so evident that he and writers Carey and Chad Hayes address story first and here, you can see that that was their main priority – it just so happened to err on the scary side. Those hoping to be scared out of their wits by The Conjuring 2 however, will likely walk out of the cinema disappointed but those after a great, dark story will be impressed, seeing Wan once again deliver truly eerie scenes without the use of cheap tactics.