Disgraced Tory activist Mark Clarke, currently the focus of both a police investigation and an independent inquiry over allegations of bullying and blackmail within the Conservative Party, threatened to "ruin" the careers of Oxford Tory activists in front of senior CCHQ staff.
A Conservative activist claims that several senior members of Conservative Future (CF)'s Oxford University wing were called into a meeting with Mark Clarke and Paul Abbott last May. Abbott, the current director of Conservative Way Forward, was at the time chief of staff to Grant Shapps.
At this meeting, Clarke allegedly promised to blacklist the students from future careers in the Tory party if they didn't go along with RoadTrip's plan for election campaigning. He also threatened the use of "personal stuff" as further leverage against them. IBTimes UK understands concerns were raised with CCHQ about Clarke's behaviour at this time and that Abbott apologised but took no further action.
The revelation, supported by multiple accounts of the meeting, raises further questions about whether senior figures in the Conservative party knew of Clarke's bullying tactics far earlier than has previously been claimed. In his resignation letter to David Cameron, Shapps wrote: "I cannot help but feel that the steady stream of those who raised smaller, more nuanced, objections should have perhaps set alarm bells ringing sooner."
Facebook messages and emails from Clarke show a pattern of intimidation and inducement, with promises of career success within the Conservative party.
In an email sent in May 2014 to the Oxford University Conservative Association (OUCA), Clarke explained that his RoadTrip 2015 election campaigning strategy was backed at the very top, with the "full support of the prime minister and the party chairman". It was also linked to preferment: "Activist attendance is tracked and related to future career success within the party."
Two Facebook messages sent to a Conservative Party activist are even more explicit: "Write us a plan to get 100 people every month on RoadTrip. And the doors will open. The patronage will flow. The internships will follow. The speakers will come."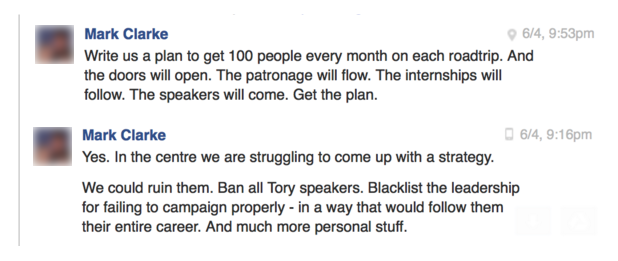 However, Clarke warned that if OUCA did not co-operate "we could ruin them". He added: "Ban all Tory speakers. Blacklist the leadership for failing to campaign properly – in a way that would follow them their entire career. And much more personal stuff." This was either tacitly encouraged or wilfully overlooked by senior Conservative officials.
In late May 2014, Clarke emailed the association, inviting "leading members of OUCA to CCHQ to meet with myself and leading members of the party to discuss this initiative", dangling "the possibility of internships at CCHQ".
Once again, Clarke made it clear that he had official backing, and would be attended by "folks from the party chairman's office".
Jack Matthews, a DPhil student and former president of OUCA, explained more in a blogpost: "Myself and some other senior officers of OUCA were asked to attend a meeting on 30 May, where... we were instead berated, shouted at, and smeared."
Shocked at Clarke's behaviour, Matthews said he repeatedly raised concerns about him with the Conservatives. "I made clear then the terrible way in which my fellow officers and I had been treated by Mark," he wrote. "I made clear that he shouldn't be allowed near CF, and that it was a corruption of our democratic processes for him to be pulling the strings.
"There seemed to be no grasp within our National Executive that having Mark Clarke at the centre of our organisation, leaching disunity and division in every direction, was even a bad thing."
Clarke also boasted about the extent of his relationship with senior Conservative figures. Emailing activists, he wrote: "I would like to attend Port and Policy [a weekly drinks event] as the personal representative of Grant Shapps."
The source claims Clarke told him personally that if RoadTrip 2015 was a success, "Grant Shapps will make me an MP because of this".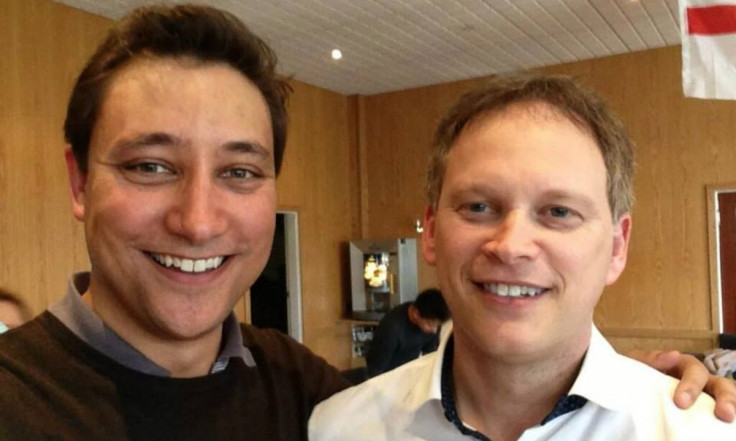 Paul Abbott, Shapps's chief of staff at the time, has since tried to distance himself from Clarke, despite being present at the May 2014 meeting. He claimed over the weekend: "For seven months I have been leading efforts to have Clarke thrown out of the party. He is appalling. I wish I had never met him."
Shapps has claimed Abbott conducted extensive dealings with Clarke, telling The Telegraph: "Mr Abbott handled the party's relationship with Mr Clarke. I would say Mark and I rarely spoke. There was no direct conversation."
But the new director of Conservative Way Forward seems to have done nothing about these threats when they were made in his presence in May last year.
Mark Clarke has denied all allegations and did not respond to request for comment by Byline and IBTimes UK on 1 December. Paul Abbott did not respond to requests for comment.
This story has been jointly published by IBTimes UK and Byline (https://www.byline.com/), a crowd-funded journalism platform. Follow Nick Mutch and George Greenwood on Twitter @NickTMutch
@georgegreenwood. For the Byline story, click here.