David Cameron has revealed his fears over the next general election, claiming he is trying to fight battles on two fronts and has, as a result, highlighted a sense of incoherence at the heart of policy-making that is worrying many delegates in Birmingham.
After previous attempts to write-off or downplay the Ukip factor, the prime minister has made his clearest admission yet that Nigel Farage's self-styled "people's army" is a real threat to his chances of victory in 2015.
As if to underline his problems with both Ukip and the Labour party, he has been knocked from the top slot of The Times' list of most influential right-wingers, to be replaced by none other than Nigel Farage.
Meanwhile, a YouGov poll for the same paper showed Ed Miliband has defied his critics and actually improved his "effectiveness rating" by two points despite his disastrous conference speech, although it still remains at a dismal 17%.
Speaking in a series of interviews, the prime minister admitted he had a "double battle" on his hands, against both Labour and Ukip.
"I have to win a blue-red fight against Labour, but I also have to win back people who have left my party who are concerned and worried about the pressures in our modern world," said Cameron.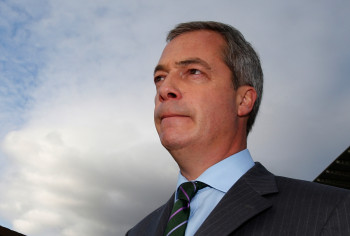 He has attempted to address the two "enemies" with distinct policies aimed directly at their supporters, sometimes appearing to be looking left, yet at other times striking a decidedly more Ukip-friendly face.
Targeting Ukip sympathisers, Cameron said: "I have to reassure them I absolutely get the problems of uncontrolled immigration. I do want to change our relationship with Europe and build a sense of national pride that this country can again be a success in this modern world."
Confessing there were "divisions on the right" he said the answer was to "go back to your values about what makes you tick rather than a fundamental division which is what we have with Labour".
That will strike a chord with many of his backbench critics who have long claimed the prime minister is "not a real Tory" - an image he has clearly attempted to shed of late. But he has also signalled he is ready to take-on Labour over the NHS by putting it at the centre of the Tory election campaign, starting with an ambitious announcement that people will be able to see their GPs seven days a week by 2020.
Chancellor George Osborne also targeted the NHS in his conference speech but, at the same time, underlined another of the party's problems. His relentless focus on years of more austerity and swinging cuts to benefits has spooked some delegates in Birmingham who think such doses of unvarnished truth may not go down well beyond the conference hall.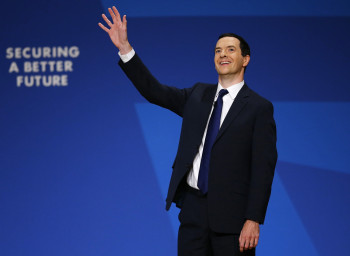 They are particularly worried that the army of working poor will see the Tories penalising them even though they have done the right thing and found work, no matter how poorly paid.
Influential former minister Mark Field told IBTimesUK he was worried the chancellor had not done enough to offer voters the vision of better times ahead as a result of the current austerity.
Others were privately more blunt, claiming the party was in danger of losing a coherent direction.
"Are we the caring Conservatives Cameron once claimed or have we gone back to the nasty party that hits the working class vote?" asked one.
And that is David Cameron's emerging challenge as he attempts to fight both Ed Miliband's Labour and Nigel Farage's Ukip. He needs to use his big speech on Wednesday (1 October) to square that circle and give delegates a coherent vision to push on the stump in just seven months' time.