Conservative councillor Ray Bray has been suspended from the party after a series of racist and Islamophobic messages were sent out from his Twitter account.
The politician, who tweets at @rayjbray, and represents Shelley on Kirkburton Parish Council in Huddersfield, has been removed from his post pending an investigation.
Tweets from the account attacked the Muslim community, lashing out at "Muzzie rapists", advocating the building of mosques to be banned, as well as urging people to boycott "Muslim firms".
Responding to Redcar MP Anna Turley, after she criticised the latest policy on grammar schools, the account tweeted:
"You're a fool. What you are saying is complete and utter rubbish and how you can say it is in v/bad taste.
'Lab 2 blame for Muzzie rapists."
The account also tweeted Sadiq Khan and accused the Mayor, who is Muslim, of condoning terrorism.
"Honour killings, wife beatings, and FGM along with terrorism are part and parcel of his faith," read the tweet.
As well as sending out several Islamophobic messages, the account retweeted several vile messages of hate.
"Islam is truly evil as are those that follow it," retweeted the account.
Another post, sent out on 19 April, read: "Ban building any more Mosques or madrasses (sic)".
The account also retweeted a racist, pro-Marine Le Pen cartoon.
The account has been suspended while the investigation continues. However, a cached version of the account's web page, accessed via a Google search, did show tweets and retweets critical of Islam.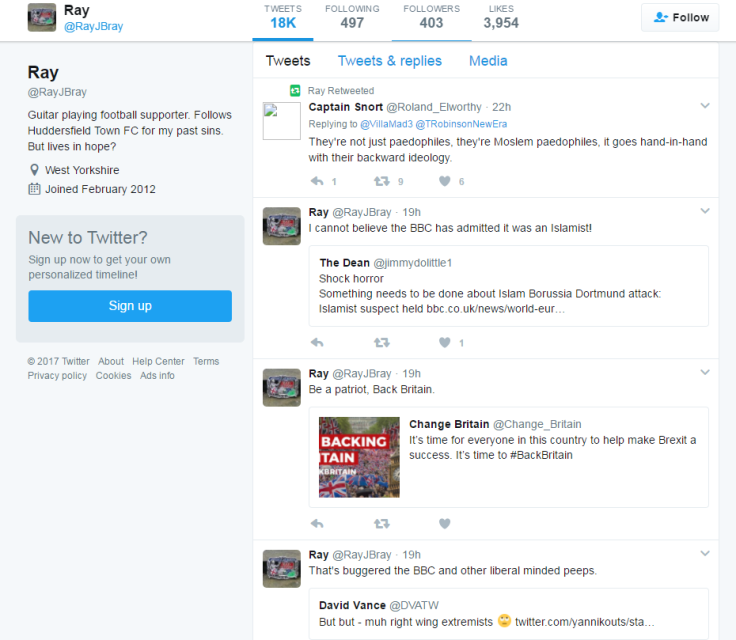 Paula Sherriff, Labour MP for Dewsbury and Mirfield, described the language as "absolutely abhorrent".
"This blatant Islamophobia has no place in society, even more so when the country needs to be coming together and standing up against the rise in hate crime we have seen in the last year," said the politician.
A Conservative spokesman said: "Mr Bray has been suspended from the party pending an investigation."
Bray has denied sending out the tweets, claiming his account has been hacked – a situation he described as "a nightmare".