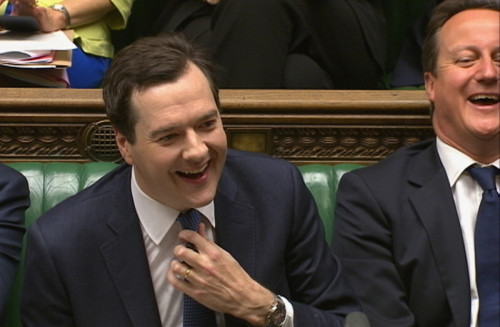 Support for the Conservatives inched up a point on a monthly poll, as optimism over the UK economy hit its highest level since 1997.
According to the latest February Ipsos Mori Political Monitor, half of Britons believe that the state of the economy will improve in the coming year, as they support prime minister David Cameron and chancellor George Osborne's methods of dealing with major challenges such as unemployment.
Over the last month, the Tories have inched up by another point to reach 31, while the Liberal Democrats and UK Independence Party both slipped by a point each.
While Britain's opposition, Labour, remains in the lead with 38, it lost one point.
"Yet another surge in economic optimism to near-record levels has given Cameron a personal boost for his stewardship of the economy, while after a difficult month for Nick Clegg his personal ratings have fallen (as have Nigel Farage's)," said Gideon Skinner, head of political research at Ipsos Mori.
"And yet despite that, the party shares – and Labour's lead – have remained steady. How these different trends play out together - especially as other issues come to the fore - is going to be key as we get closer to an election."
Satisfaction Ratings and Issues
The growing level of economic optimism has helped boost Cameron's popularity across the board over the last month.
According to the recent poll, 42% people say that they now trust Cameron more than the other party leaders to deal with managing the economy and unemployment.
This is significantly higher than those who trust Miliband (20%), Clegg (3%) and Farage (3%).
The boost increases Cameron's lead over Miliband to 22 points from 14 points just over six months ago.
However, while Conservatives have gained the edge over dealing with the economy, Labour's leader Miliband is trusted by more Britons over regulating the banks and bonuses.
While banks, bonuses, unemployment, and the overall economic outlook was at the forefront from Britons' minds, taxation and immigration also featured in key points for swaying votes.
According to Ipsos Mori, 40% support Ed Balls' policy of 50p in the pound, after Labour's Shadow Chancellor pledged to hike the top rate back up, if his party wins the election.
Meanwhile, only 28% support Osborne's policy of 45p and 26% support Boris Johnson's policy of 40p.
The polling will add a little discomfort to the Conservative-ruling coalition after Danny Alexander, who is second in command at the Treasury to his Conservative coalition colleague Osborne, slapped down the suggestion that another cut to the top income tax rate could happen before the 2015 general election.
The top rate of tax has been an issue of late. Labour wants to take it back up to 50p. I think the 45p rate is the right place to be," said Alexander.
"I wouldn't go to cutting below 45p. That would happen over my dead body. It's better to say we are going to stick where we are."
Elsewhere, Cameron gained a lead on the issue of immigration, which is now joint top in the Ipsos Mori Issues Index.
Latest figures show that 23% trust Cameron most to deal with immigration, while anti-mass immigration party leader Farage is in second place with 20%.
Around19% trust Miliband on immigration issues while only 8% trust Clegg.