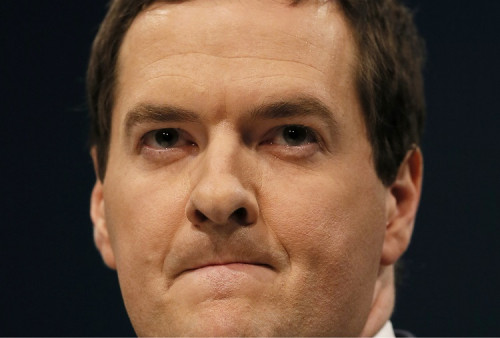 Britain is not even half way through the spending cuts mapped out by Chancellor George Osborne under his austerity programme to erase the deficit in public finances, according to the Institute for Fiscal Studies, and there is no guarantee he can even finish it.
In its Green Budget 2014 report, the influential IFS thinktank calculates that only 46% of the planned spending cuts will have been made by the end of the 2013/14 financial year.
"Given that, by the end of 2013–14, we are only forecast to be halfway through the pain of the planned fiscal tightening, there is still significant uncertainty about whether this plan can be delivered," said the IFS in its report.
"This is particularly true of the cuts to 'other current spending'; while all the required specific tax increases and benefit spending cuts have been announced, spending settlements between departments have not been made beyond 2015–16, and therefore it is not yet clear which public services will bear the brunt of the extra spending cuts planned between 2016–17 and 2018–19."
Osborne has slashed billions of pounds off of government spending, from Whitehall departments' budgets to the welfare bill. Just 14% of his austerity plans rely on tax increases.
The coalition government inherited an 11% budget deficit in public finances when they came to power in May 2010.
He had originally planned to make all of the cuts within one parliament, which will end at the 2015 general election.
But the original forecasts from which Osborne worked were left in tatters with the sudden global downturn, as emerging economies slowed and a sovereign debt crisis wreaked financial havoc through the eurozone.
This dragged the UK economy down and so tax revenues were not as high as had been expected, leaving the government forced to borrow more to maintain spending and sending public debt ever-higher.
As a result of the downturn, Osborne extended his spending cuts to 2018 and by billions of pounds more.
He will also miss one of his key fiscal targets. He originally said he would bring down UK debt as a portion of GDP by 2015/16, but this will not happen until the 2017/18 fiscal year.