Conspiracy website InfoWars claims to have received White House press credentials
Fronted by Alex Jones, the site is known for supporting unfounded conspiracy theories.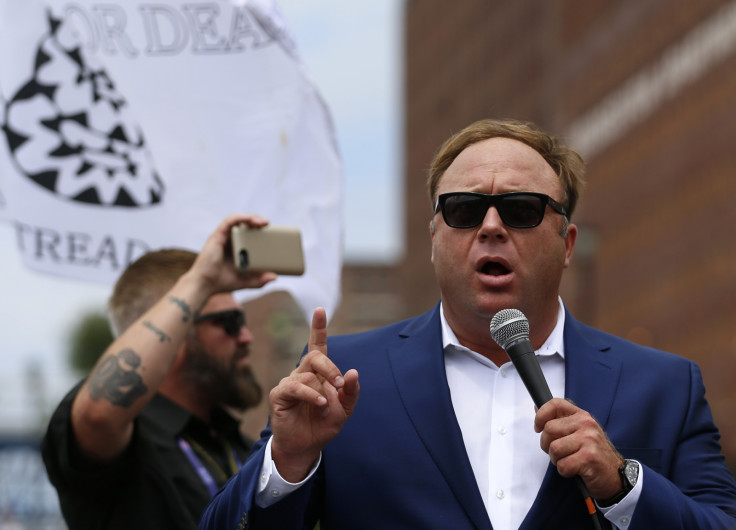 A website known for its peddling of conspiracy theories and links to the 'alt-right' has claimed on Monday (22 May) that it was granted press credentials by the White House. The claims prompted many to attack the Trump administration for legitimising the site's disinformation but, as ever with InfoWars, it might not be the whole story.
Washington-based InfoWars member, Jerome Corsi tweeted a picture of himself inside the White House briefing room with a caption saying: "We have WH PRESS CREDENTIALS." An article on the site called it "an epic blow to the mainstream media's control of the narrative".
IBTimes UK reached out to the White House for clarification on the claims but did not receive a reply by the time of publication.
Other White House reporters shot down Corsi and InfoWars claims of White House credentials, saying that the pass Corsi was seen wearing was just a day pass, not a permanent pass. Chief White House Correspondent for the One America News Network, Trey Yingst tweeted that even high school students can apply for day passes".
Another reporter with the Weekly Standard said it was "a temporary day pass almost anyone who publishes can get."
InfoWars and Jones have been roundly criticised for spreading a number of conspiracy theories, including that the massacre of 20 six and seven-year-old children at Sandy Hook elementary school did not happen, alleging it was part of a plot by the government to further gun control.
Recently, Jones has had to apologise for some of his statements: once in March for promoting the false Pizzagate conspiracy and earlier in May for saying that the yoghurt company Chobani, which employs a number of refugees, supported "migrant rapists".
Though it appears that InfoWars does not have permanent credentials, the claims prompted one Democratic senator to tweet this reaction: "I want to throw up."
© Copyright IBTimes 2023. All rights reserved.