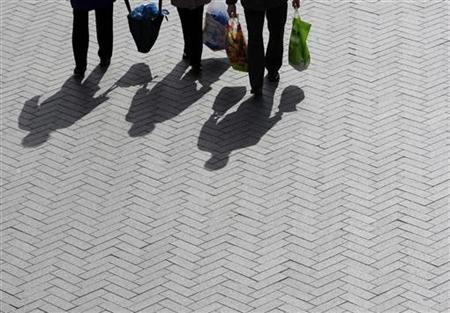 Falling consumer confidence by market researcher GfK NOP will lead to drop in consumer spending economists warn, as levels drop for fifth consecutive month.
Despite a rise in retail sales, political uncertainty over how to cut the nation's deficit is said to be causing the drop.
GRIM READING
According to GfK NOP, consumer confidence in July dropped sharply and is now at a one year low after confidence in the "general economy' and their personal financial situation over the next 12 months fell to -48 and -14 respectively.
Nick Moon, MD of GfK NOP Social Research, comments: "Given that consumer confidence measures are normally good predictors of what the economy itself will do a few months later, the continuing slide in the Index makes a double dip recession look more of a possibility as each month goes by."
Meanwhile, Howard Archer at IHS Global Insight, added: "The further retreat in consumer confidence in July reinforces concern over the prospects for consumer spending, despite the recent improvement in retail sales which has been helped by the football World Cup, good weather and summer discounting by shops. These are temporary supports to spending and the very serious risk is that spending will soften as they wane."
Having found some 'steam' over the last few months consensus is now that Retail Sales will fall following today's results.
Capital Economics, a research consultancy firm, provides the following explanation for Britain's boom in retail sales:
"The first is that the current strength of retail sales simply reflects the effects of a whole host of temporary factors. The World Cup, for example, seems to have boosted demand for televisions in Q2." said Samuel Tombs, their UK Economist.
"A second plausible explanation is that the retail sales figures are not representative of what's happening to overall spending," he adds, "Moreover, spending off the high street appears to have weakened recently. The Bank of England's agents, for example, recently saw "...some signs that consumer spending growth had slowed through Q2." he adds.
However, other economists argue that a rise in GDP, is indicative of growing 'strength' in the recovery, although whether retail sales will continue is perhaps dependent on the success of businesses and their Summer Sales.
Retailers such as Marks & Spencer's have reported good demand for summer knitwear and holiday splurges and how long this continues is not yet known. August retail sales will therefore be a key indicator therefore of just how far the retail sales have to go as holidays begin and people travel abroad.
"Tax rises, welfare cuts and the clampdown on the costs of public sector employment looks set to knock nearly 3% off household income growth next year alone. There's no escaping the fact that the fiscal squeeze has condemned consumer spending to a period of extraordinary weakness." says Capital Economics', Samuel Tombs however, concluding that the boom is not going to continue.