Controversy erupts as the first Muslim woman in a hijab appears in Playboy magazine
'Get the hate out of your systems' says Noor Tagouri after she's attacked by Muslims and feminists.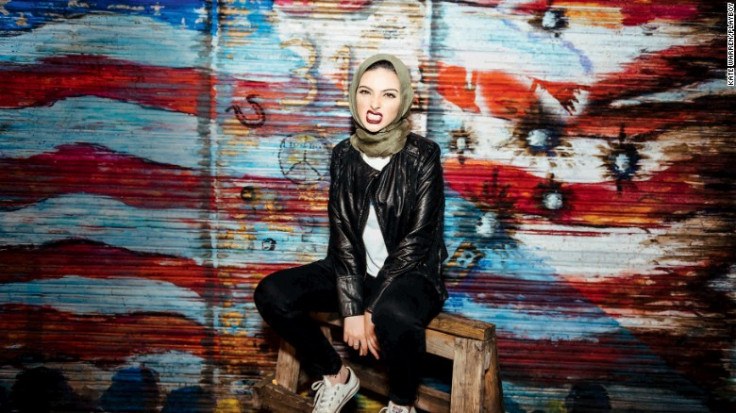 Playboy is featuring its first Muslim woman in a hijab. The young journalist will actually wear much more than that, and will even makes a "strong case for modesty" in the steamy pages of the magazine, of all places. But it's not happening without a tsunami of controversy.
American Noor Tagouri, 22, who works for Newsy, will appear along with a sex activist, a comedian and a novelist in Playboy's October issue as part of the magazine's annual Renegade picks, featuring people who, according to Playboy "risked it all – even their lives – to do what they love, showing us what can be accomplished if we break the rules".
It's not clear what rules Tagouri has broken. But the West Virginia native and first generation Libyan American of her family has wracked up lots of followers on #LetNoorShine and her YouTube channel, collaborated on a fashion line, given a TED talk on individuality – and aims to become the first hijab-wearing network news anchor.
Tagouri definitely won't be nude in the magazine (Playboy has jettisoned its fully nude photos), and is very modestly dressed for her Renegade appearance.
She does talk about what it's like to be an American and a journalist as a "hijabi Muslim woman". She believes her experiences with discrimination and stereotypes in the US has improved her connection with many news sources.
"I know what it's like to have the narrative of our community be skewed and exploited in the media," she tells Playboy. "Hey, I know what it's like to be misrepresented in the media. I won't do that to you," she says she tells sources. "I want to tell your story because it's important and deserves justice."
But Tagouri has already been slammed by several critics after she announced her appearance online. As the Miami Herald quipped in a headline: "A Muslim woman in Playboy. What could go wrong?"
She was instantly attacked by Muslims many of whom see her appearance in Playboy as a betrayal, and by many feminists who also see it as a betrayal.
"There was the backlash, then the backlash against the backlash, then the (I'm not kidding) backlash against the backlash against the backlash," Shadi Hamid, a Brookings Institution fellow who specializes in Islam, said of the Tagouri controversy on Facebook.
Linda Sarsour, one of the country's most prominent Muslim activists, revealed that she had also been approached by Playboy, but turned down the interview.
Sarsour said her decision was personal, "as a woman, as a mother, as a Muslim." But she slammed the Muslims attacking Tagouri.
"While I don't agree with Noor's choice to take this interview, I am outraged by the slut-shaming of a young sister in our community," Sarsour wrote. "She is our daughter."
Tagouri has promised to respond to the controversy. Until then, she wrote on Twitter: "I'm gonna let everyone get the hate out of their systems and calm down for a sec."
© Copyright IBTimes 2023. All rights reserved.