COP21: Arnold Schwarzenegger says people should eat less meat to tackle climate change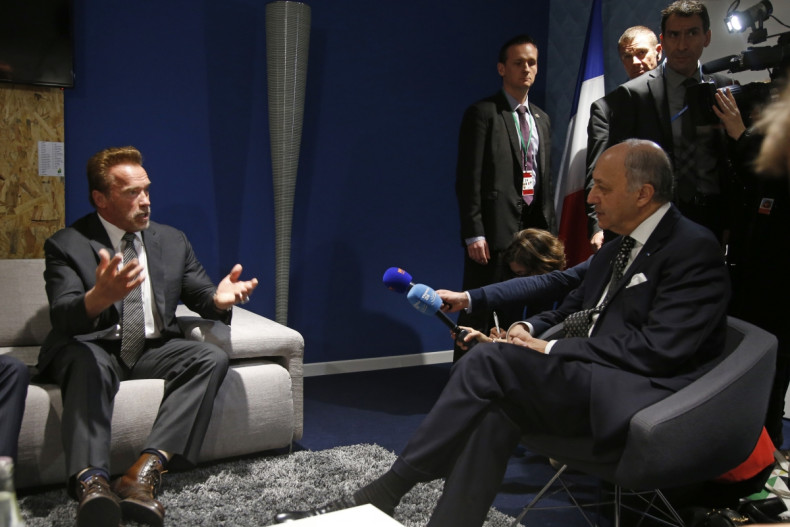 Arnold Schwarzenegger has said that he supports people eating less meat in a bid to combat climate change. The film star, body builder and former California governor was in Paris to deliver a speech to delegates at the UN Conference on Climate Change (COP21).
Speaking to the BBC, Schwarzenegger said he had known a number of vegetarian body builders who were able to get strong and healthy: "We know that you can get your protein source in many different ways," he said. On giving up meat, he said that he thought it was a good idea but "I don't think people buy in".
"I think people will buy in to maybe stop a day a week to eat meat or two days a week or something like that, you have to start slowly, you can't just convince people to stop eating meat all together, it's a very big challenge," Schwarzenegger said. "It doesn't mean it shouldn't be done and you shouldn't be in that campaign, but it's a very hard thing to overcome."
Schwarzenegger also said that people did not want to change the way they live so alternative technology should be the focus in tackling climate change.
On Monday, Schwarzenegger published a post on his Facebook page titled "I don't give a **** if we agree about climate change" in which he said that believing in climate change did not matter when talking about the move to cleaner energy. He said that diseases caused by fossil fuel pollution and the fact that fossil fuels would eventually run out meant that cleaner energy was a much smarter investment.