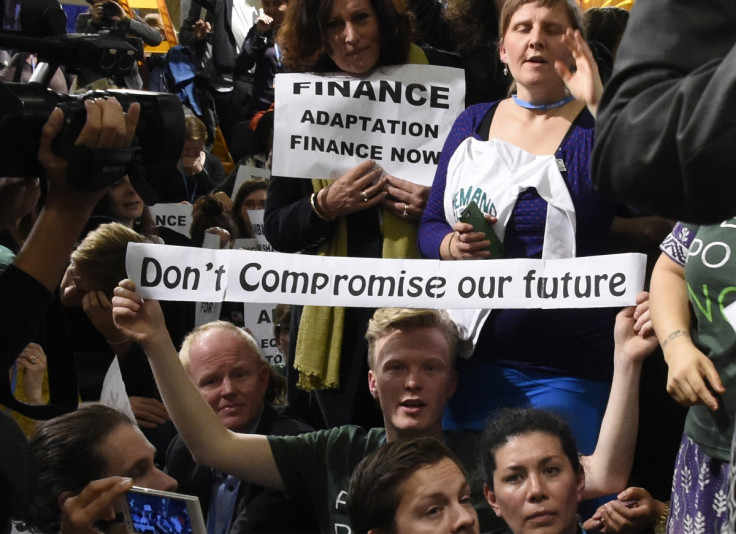 Thousands of environmental activists are expected to take to the streets in Paris on 12 December to express their commitment to the fight against climate change. The event will see campaigners defy the ban on public demonstrations implemented by France under the state of emergency in the wake of the Paris attacks on 13 November.
Organisers have dubbed the event the Red Lines demonstration, with people carrying red flowers to honour past and future victims of climate change. They also confirmed to attendees that this is an "unpermitted event".
A statement from the campaigning group 350.org, which is coordinating the event, said: "This gathering is about respect. We know that our leaders have shown little respect – not for the rights of people on a planet torn by inequality and racism, not for the red lines for a just and liveable planet. Lines we should dare not violate. So we will stand with our own bodies to draw red lines, committed to protect our common home from burning up."
Organisers are expected to roll out 100m of red fabric to form a giant red line down the Avenue de la Grand Armee, which will point to towards the "real perpetrators" of climate change in La Defense, which houses major fossil fuel companies and their financial backers. The demonstration is intended to show world leaders that the agreement is not a successful outcome due to the fact that developed countries have refused to commit to a fair share of emission cuts.
The Red Lines event is intended as what some activists have begun calling "climate disobedience", which includes civil disobedience actions that challenge the fossil fuel industry. Under state of emergency powers, the French government could reportedly dissolve organisations that participate in any demonstrations. Those who refuse to disperse from actions could face up to one year in jail and an additional fine of €15,000 (£10,850, $16,436).
"The public gathering should be an incredible visual to close out the two weeks of climate talks," said a spokesperson for 350.org. "The action will be a reminder that there is no complete triumph in the battle against climate change – too much has already been lost – but that any progress will be led by the people, not our politicians."