The flag of St Piran is to be raised in celebration. The Cornish are to be recognised as a national minority, giving them the same status as the Welsh, Scots and Irish as official members of the UK's Celtic minorities.
Danny Alexander, the Liberal Democrat Chief Secretary of the Treasury, will make the announcement in Bodmin on Thursday. He said, as reported in the Independent: "Cornish people have a proud history and a distinct identity. I am delighted that we have been able to officially recognise this and afford the Cornish people the same status as other minorities in the UK."
Cornish nationalists have been campaigning for rights and protection as a distinct group, insisting that Cornwall has a distinct language and a culture worth of formal recognition. With national minority status, the Cornish have protection against discrimination under a European convention.
Language
The Cornish language has more in common with Welsh and Breton, a Celtic language spoken in Brittany that was brought to Great Britain to Armorica by migrating Britons during the Early Middle Ages. In 2009, Unesco listed the Cornish language as "extinct" but later re-categorised it as "critically endangered" after protests.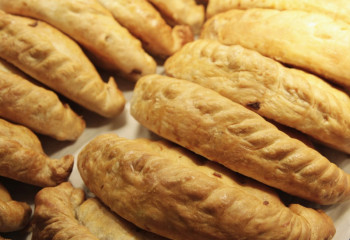 According to the Cornish Pasty Association, cornish pasties, one of Cornwall's most famous exports aside from clotted cream, were first recorded in the 1300s and now comprise 6% of the Cornish food economy. The pasty, filled with meat and vegetables, has now been granted EU protected status.
Cornish pasties
The crust around the pie was allegedly designed so that tin miners could eat the contents without contamination from arsenic. Tin mining was important in the High Middle Ages and rich copper mines expanding during the 19th century, while railways led to a growth of tourism in the early 20th centuries.
In the mines of Devon and Cornwall, pasties were associated with "knockers", which were spirits said to create a knocking sound that would indicate the location of rich veins of ore or warn of an impending tunnel collapse.
Flag of St Piran
Cornwall has 422 miles of coastline and its own flag. The white cross on the black background of St Piran's flag was first recorded as the Standard of Cornwall in 1838. It is attributed to Saint Piran, a 6th-century Cornish abbot.
St Piran's flag is similar to the old Breton flag and the flag of St David. There are well-established cultural links between Cornwall, Brittany and Wales.
Cornish landscape and people
In 2011, a census saw 84,000 people declare themselves Cornish. Some argue that Cornish people represent a distinct ethnic group descended from ancient Celtic tribes.
The area now known as Cornwall was first inhabited in the palaeolithic and Mesolithic periods and continued to be occupied by the Neolithic and Bronze Age peoples. Vast areas of Cornwall's coastline and Bodmin Moor are protected as an Area of Outstanding Natural Beauty.