Japanese Industry to Hoard Gains From Shinzo Abe's Corporate Tax Cut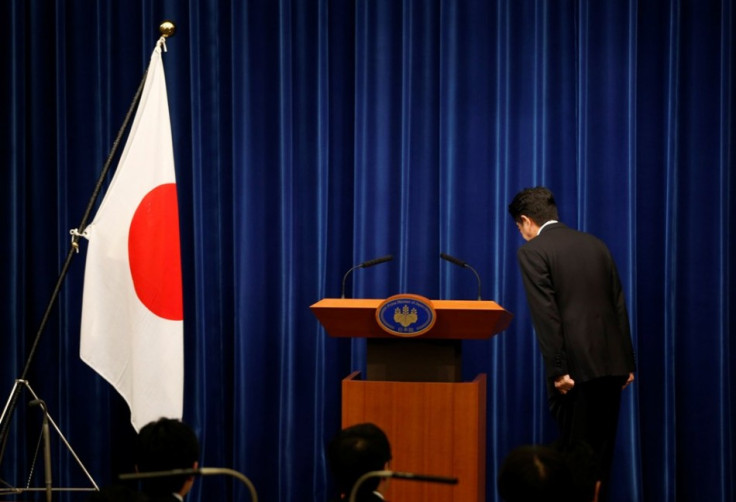 A sizeable number of Japanese companies are expected to save, and not spend, the funds generated by a forthcoming cut in the corporate tax rate, a move that threatens to derail Prime Minister Shinzo Abe's growth strategy.
Japan's economic recovery has gathered momentum and the government wants Japanese industry to invest more in their businesses and raise salaries.
However, risk-averse Japanese firms are expected to put away any savings from a lower corporate tax rate and shore up internal reserves, a Reuters survey of 400 companies showed.
Three out of 10 companies said they would bank any funds from a lower corporate tax rate. The internal reserves for Japanese corporations taken as a whole totals in excess of $2tn (£1.23tn, €1.46tn), reported Reuters.
One in five respondents said they would use any savings to offset the cost of upgrading ageing equipment and production facilities.
Of all companies polled, 12% said they would use the money generated by a corporate tax cut to compensate for the likely higher costs from a sales tax increase, which comes into force in April, 2014. 5% said they would use the additional savings to hike salaries; while another 5% propose to use the savings to hire more people.
More than half, 54%, said they would boost profits, while the remainder said the tax cut would have no effect.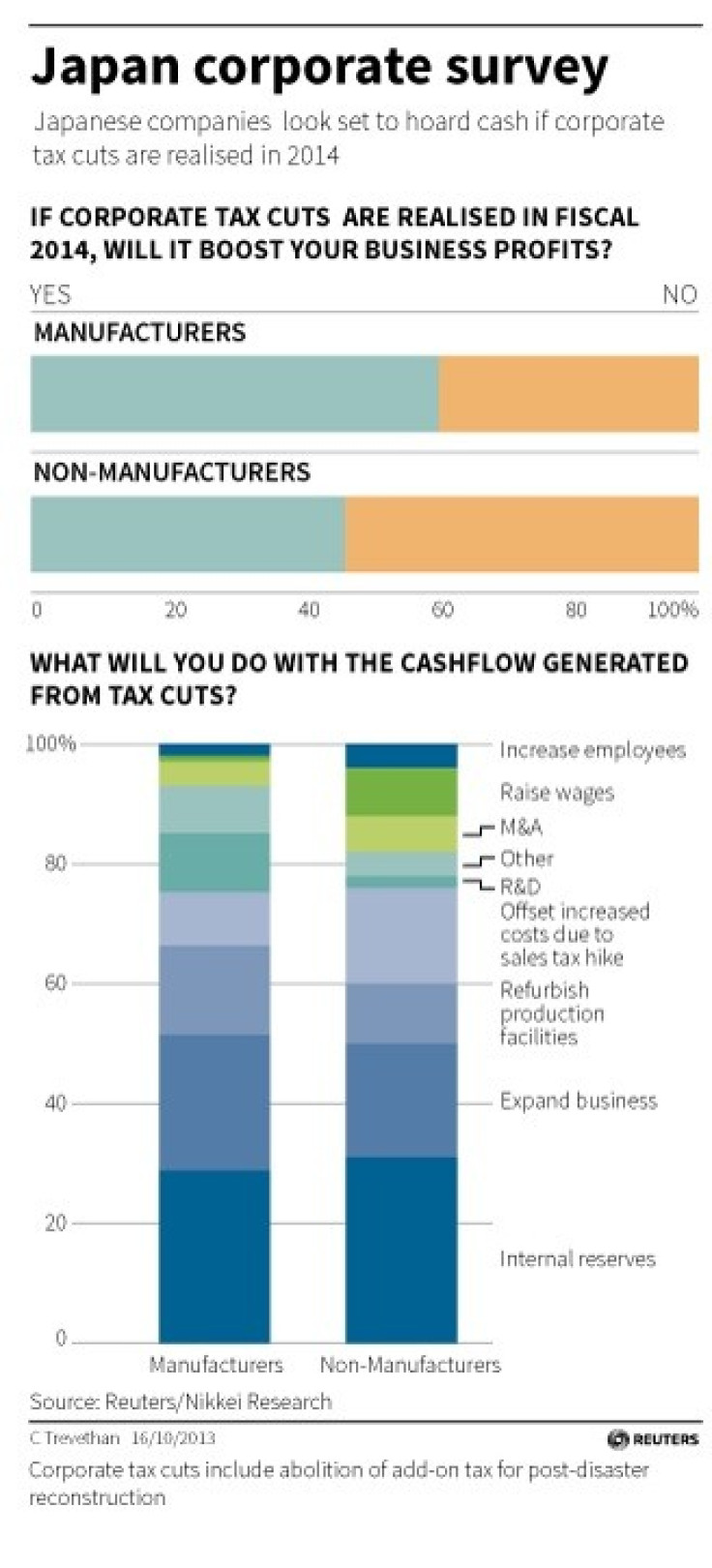 "Our profit-and-loss conditions are improving, but the situation remains far from assured. We need to stick to internal reserves," a machinery manufacturer told the news agency.
"I conveyed the collective will of business circles that we want to invest profits in capital spending and wages," Hiromasa Yonekura, who heads the Keidanren business lobby group, told reporters on 17 October.
Akio Toyoda, president of Toyota Motor, told the Keidanren gathering that he would consider returning improved profits in the form of pay, while Hitachi's Chairman Takashi Kawamura said a hike in base wages would be an option, reported Reuters.
Corporate Cash Pile
Abe's coalition government plans to discontinue a corporate tax levy that raised relief funds, following the 2011 earthquake and tsunami that devastated parts of Japan. The move could result in savings worth about 900bn yen (£5.6bn).
Japanese firms, plagued by two decades of sluggish growth and deflation, have put aside cash for several years. Corporate Japan is sitting on a cash pile of some 220tr yen, the Bank of Japan has estimated.
The Reuters corporate survey was conducted between 30 September and 11 October, alongside the Reuters Tankan survey of business sentiment.
The Tankan survey forecast that the mood among Japanese businesses was set to improve over the next three months.
© Copyright IBTimes 2023. All rights reserved.