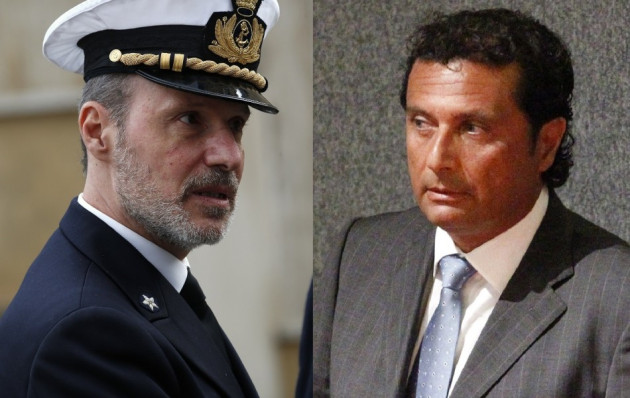 The two men depicted by Italian media as the hero and villain in the sinking of the Costa Concordia have met for the first time in court.
Coastguard Captain Gregorio De Falco took the stand as a witness in Grosseto, Tuscany, at the trial against Captain Francesco Schettino, who was also in court.
In the wake of the shipwreck that killed 32 people in January 2012, De Falco was hailed a national hero for lambasting Schettino, after the latter had allegedly abandoned the ship with hundreds of passengers still on board.
Schettino glanced down, holding documents in his hands and briefly spoke to his lawyers while the infamous audio tape of De Falco ordering him to go back on board was played in court.
"Get Back on Board for f**k's sake!" De Falco was heard telling Schettino during a phone call. "Captain, this is an order. Now I am in command. You have declared the abandoning of a ship and are going to co-ordinate the rescue from the bridge.
"What do you want to do? Go home?" De Falco said.
The recordings were leaked to the press shortly after the shipwreck, gaining Schettino the nickname of Captain Coward.
Conversely De Falco was praised as an example of efficiency and devotion to duty. The captain, however, has long refused the mantle of national hero and maintains he was simply doing his job.
"I urged the captain Schettino to get back on the ship but I didn't succeed," De Falco told the Grosseto judges. "I still wonder why he got off."
Schettino's defence team maintains he fell from the liner.
In court the two captains didn't look at each other. De Falco told the court that Costa Concordia officials repeatedly failed to inform the coastguard about the extent and seriousness of the damage reported after the liner hit a rock near the Island of Giglio.
The court heard that in the almost 60 minutes that passed between the crash and the signal of distress, Costa Concordia officials told authorities several times that they were merely investigating a black-out.
"From the ship we were getting reassurances on the situation on board, but Carabinieri police in Prato told us they received a phone call from a relative of one passenger, who said the ship was in the dark, [passengers] had been told to wear lifejackets and objects and furnishing parts had fallen down," De Falco said. "This led us to believe the situation was more serious."
De Falco said Costa Concordia officials eventually admitted having "a problem" about 45 minutes after the crash and asked for a tug boat. De Falco said he sent in all the cutters available and then called Concordia officials who finally disclosed the liner had a leak.
Schettino faces up to 20 years in jail on charges of manslaughter, causing a shipwreck and abandoning ship. He is the sole defendant on trial and denies the charges.
READ:
Costa Concordia Trial: 'What a Mess' Shouted Captain Schettino as Disaster Struck
Costa Concordia Trial: I Was Captain Coward's Lover, Says Domnica Cemortan
Costa Concordia Trial: Captain Schettino 'Jumped in Lifeboat to Abandon Ship'