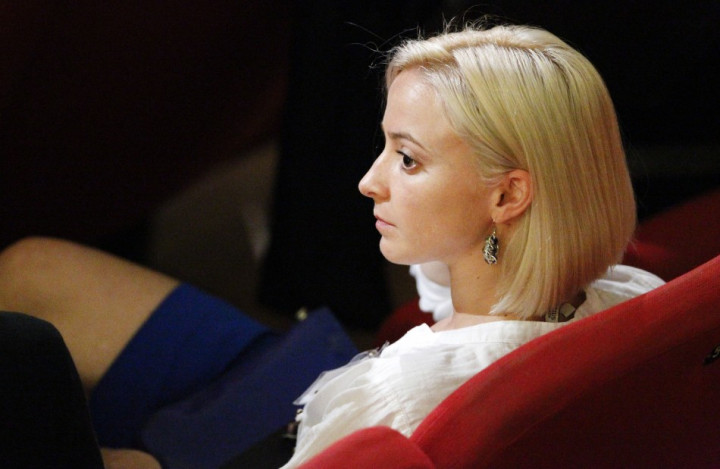 A young Moldovan woman who was on the bridge of the Costa Concordia when it crashed off the Italian coast said Captain Francesco Schettino should not shoulder all the blame for the disaster.
Domnica Cemortan, 26, dined with Schettino just minutes before the cruise ship crashed on to rocks off the island of Giglio.
She filed a complaint as a civil party at the trial against Schettino, which could entitle her to compensation if he is found guilty for the shipwreck that killed 32 people in January 2012.
However before entering court for the first day of Schettino's trial, she told journalists that the man dubbed "Captain Coward" should not be standing trial alone.
"There can't be only one guilty person in this trial," she told Italian news channel SkyTg24. She has also lodged a complaint to have the company that operated Costa Concordia - Costa Crociere - brought to account for the wreckage.
A former ballerina, Cemortan also worked for Costa Corciere. She was on the Concordia on vacation, after having completed a tour as an on-board hostess.
She has denied having a love affair with Schettino, even though her luggage was found in his cabin.
"I was a passenger like anyone else," she told SkyTg24. "I was invited [on the bridge] to take a look at the view."
Prosecutors allege the Concordia hit a rock because Schettino steered it too close to the Giglio coast, in the hope of performing a sail-past salute to its inhabitants and particularly a retired captain living there.
Schettino was also present for the first day of the trial, which was delayed by a week due to a lawyers' strike.
His lawyers said they will try to get a three-year and five-month plea bargain deal.
A different judge in pre-trial hearings turned down a similar bid by Schettino, but accepted pleas for more lenient sentences from five members of the Concordia crew.
The captain stands trial on charges of manslaughter and abandoning ship and faces up to 20 years in jail. He calls himself an innocent scapegoat and claims he actually saved lives by manoeuvring the ship closer to the island's shores.
His defence team maintains Schettino did not flee the sinking ship with hundreds of passengers still on board, but actually fell from the liner and no single person is to blame for hitting the rock as some crew members failed to follow orders.