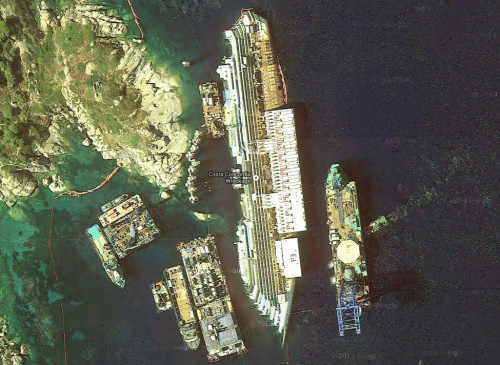 A diver has died during the salvage operation to break up the Costa Concordia off Italy's west coast. The diver, named locally as Israel Franco Moreno, of La Coruna, Spain, apparently became trapped beneath a metal sheet that cut his leg. He was raised to the surface by colleagues but died soon afterwards.
Moreno is the first diver to die as part of the salvage operation which began soon after the Concordia ran aground on the island of Giglio, claiming the lives of 32 passengers. Head of the civil protection agency Franco Gabrielli paid tribute to the dead diver and all those working on the wreck, saying they had worked "for two years without a break, in difficult conditions not without risks, to achieve the common goal of removing the Concordia from Giglio".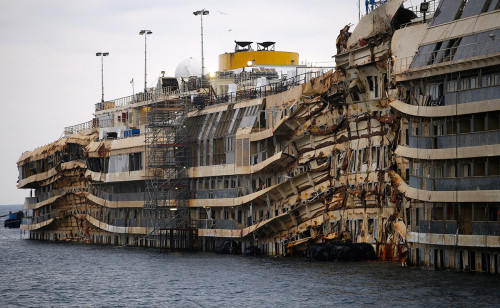 Last September a series of pulleys were used to right the 1,000ft-long, 115,000-ton boat to a vertical position. As part of that 19-hour operation, vast tanks were attached to the port side and pumped full of water to "pull" the boat upright. It is believed the dead man had been working on the latest phase of the project, to attach a similar amount of tanks to the submerged starboard side.
The Costa Concordia ran aground on 13 January 2012 during a sail past of the Tuscan island. The ship's captain, Francesco Schettino, stands accused of deserting his ship. Schettino claims he simply fell into a lifeboat when the boat began to keel over.
During the trial it was claimed that a Moldovan dancer, 26-year-old Domnica Cemortan, who was invited on to the bridge the night the ship ran aground, against company rules, had been having an affair with Captain Schettino and that he was distracted by her presence. Schettino, who is married, has denied all the claims; if found guilty of manslaughter he faces up to 20 years in jail.
After the Concordia has been stabilised it will be towed away and broken up for scrap.