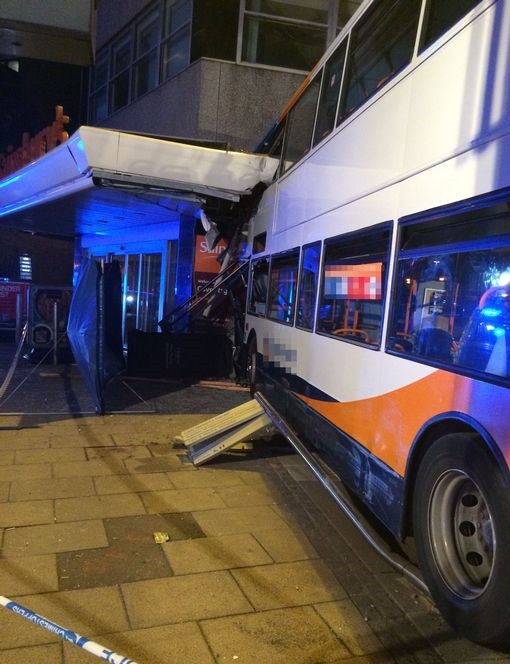 An eight-year-old boy from Leamington and a woman in her seventies are confirmed to have died after a bus crashed into a Sainsbury's store in Coventry. The boy who was on the top deck of the bus, died at the scene. The elderly woman was killed when the bus careered into her as he walked along the street.
West Midlands Police confirmed there had been "two fatalities". A spokeswoman said: "We are dealing with two fatalities. The relatives of those who have died do now know."
At least five others have been injured after the double-decker bus ploughed into the front of the building in Coventry city centre. One of the victims is said tobe fighting for their life in hospital. Emergency services were called to the scene at 6pm after the bus ploughed .
Coventry Police reported that the bus was travelling along Hale Street when it collided with a number of stationary cars and a lamp-post before crashing into the Sainsburys supermarket on Trinity Street. A number of people were reportedly trapped on the top of the double decker bus.
West Midlands ambulance service confirmed they have sent three ambulances, two emergency doctors, three rapid response vehicles and members of the Hazardous Area Response Team to the scene of the incident.
A statement from West Midlands Police said: "Three people have been seriously injured after a double decker bus collided with a Coventry supermarket this evening. The bus was travelling along Hale Street when it collided with a number of stationary cars and a lamppost before crashing into Sainsbury's on Trinity Street at 6pm.
We have four fire engines and @TechRescueWMFS at serious collision involving bus and supermarket store in #Coventry http://t.co/3snkZ19XBf

— WestMidsFireService (@WestMidsFire) October 3, 2015
"A number of people were trapped on the top of the double decker; three people are seriously injured and five other people have more minor injuries. West Midlands Police is working with fellow emergency services including Fire and Ambulance. There is a cordon in place while an investigation has been launched to establish the circumstances surrounding the collision.
"There are a number of road closures in place and buses are currently unable to drive into the city centre. Anyone with information, or anyone who may be concerned about relatives, should contact police on 101"
Eyewitnesses reported a scene of carnage. Harron Mota, 29, a youth worker from Coventry, said: "It was horrific, absolute carnage. My friend saw an old woman get hit and I think she died. It was terrible. The city was really busy at that time of night with shoppers. God knows what happened but it is a terrible tragedy. Several passengers on the bus and shoppers inside at the time were trapped."
Eyewitness Amanda Storer, 34, a teacher, said: "I'd just done some shopping and was walking towards the car park when I heard lots of screaming and a honking of a horn. I don't know if the driver was trying to warn people to get out the way but it sounded like it hit the store with some force. From where I was all I could hear was smashing windows and screaming.
"I ran back to see if I could help because I've got St John's Ambulance First Aid and I saw a man crying. Someone said his wife had been hit. Within minutes the whole place was in lock down with police cars and ambulances. It was chaos."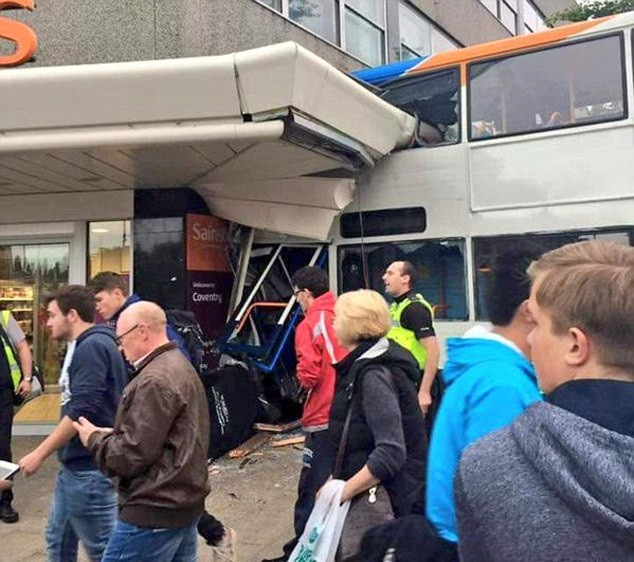 Maneer Fiaz told Sky News he was getting some food from a shop opposite when he heard a 'loud bang' and saw people running to the scene. "I came outside the shop and saw the bus was smashed into the cashpoint. I ran towards the driver and he was surprisingly alive. People were trying to get the driver out.
"The kids were trapped underneath the seats upstairs. It was absolute chaos. We got the driver out through the window. People were just running towards the scene trying to help people get out. The only thing on people's minds was the two kids stuck on the top, they couldn't get out of the bus."
A Sainsbury's spokeswoman said: "I can confirm that earlier this evening a bus mounted the pavement in Trinity Place, stopping when it made contact with the store. We can confirm that we have no colleagues injured. We are working on the ground with the emergency services."
The spokeswoman confirmed the store had been open at the time of the crash but was unable to say whether any customers had been injured.
Video posted on Twitter shows the bus with its windows smashed as people scream and try to help those trapped. One woman is heard screaming: "Oh my God, there is a kid pushing through the seat!"
Five people have been taken to University Hospital. A child is among the injured and has been taken to Birmingham Children's Hospital. Two people have been treated and discharged at the site.