The fall in food and transport prices cooled in the year to November 2015, compared to October, causing the inflation rate to edge up to 0.1%. From -0.1% in October, this means the UK has escaped negative inflation again, figures from the Office for National Statistics showed.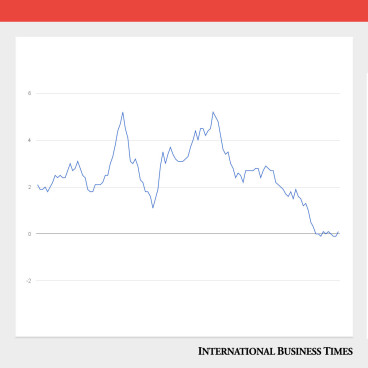 The inflation rate, which has been hovering around the 0% level, hit its highest point since July in November. Apart from January (0.3%), 0.1% is the highest point the rate has hit in 2015.
"The latest consumer prices figures confirmed that the UK's brief flirt with deflation came to an end in November, but price pressures look set to remain subdued for a long while yet," Paul Hollingsworth, UK economist at Capital Economics commented.
Despite the escape from negative inflation, the UK Consumer Price Index (CPI) is still a far cry from the 2% target set by the Bank of England (BoE). However, monetary policymakers at the bank have said that they are looking at employment numbers, rather than inflation rate, when deciding on a possible increase in the interest rate.
"Inflation looks set to strengthen further over the coming months," Hollingsworth sad. "Granted, oil prices have fallen back to around $36 (£24) per barrel over recent weeks which should feed through to lower petrol prices at the pumps in time."
However, the downturn in 2015 is clearly visible. Compared to November 2014, when the inflation rate was at 1%, the CPI is significantly more volatile. Especially transport, which was down 0.31 percentage points in 2015, only dipped by 0.03 in November 2014.
According to the ONS, falling clothing prices partly offset the movements in transport, tobacco and alcohol prices.