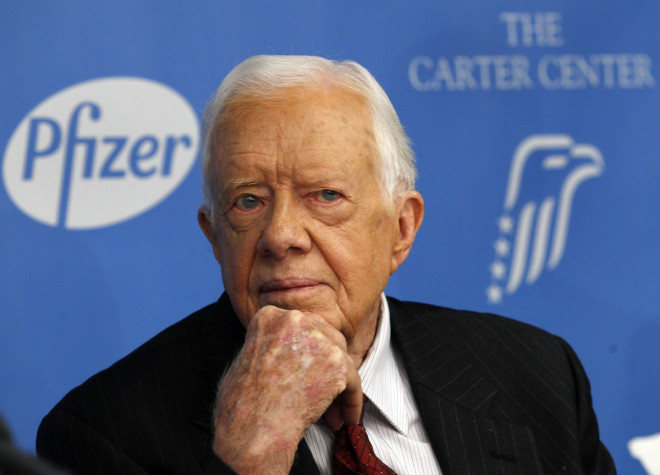 Former US president Jimmy Carter has admitted that Russia's Crimean annexation was "inevitable" because Moscow considered the Black Sea peninsula part of its territory and many Crimeans consider themselves Russians.
The 89-year-old Democrat, who served as president from 1977-81 during the Cold War, added that Russian president Vladimir Putin should not be allowed to go any further.
Speaking on the Late Show with David Letterman, Carter recalled when late Soviet leader Leonid Brezhnev invaded Afghanistan in 1979.
Jimmy Carter issued an ultimatum that the US would boycott the Moscow Olympics if Soviet troops did not pull out of Afghanistan within one month.
The International Olympics Federation criticised US pressure on other countries to boycott the Olympics, claiming it was an inappropriate way to reach a political end.
The US was joined in the boycott by Japan, West Germany, China, the Philippines, Argentina and Canada.
After the Olympics, Carter said "we began to arm the freedom fighters" in Afghanistan. It was, he added, "successful at stopping them there".
In another interview with MSNBC, Carter said that Obama could not have done anything to stop Putin from annexing Crimea.
"I think that was a foregone conclusion," Carter said. "He [Putin] was going to do it regardless of the consequences. I think now, that's far enough.
"I don't think there was any way to separate Crimea permanently from Russia."
He recalled when Nikita Khrushchev gave the peninsula to Ukraine in the 1950s when both countries were a part of the USSR.
"I don't think that President Obama or anyone else could have done any more to prevent crisis in Crimea. We have to draw the line there between additional expanse of Russia into Ukraine," he concluded.