Prosecutors in Italy have launched a criminal investigation to find out why some buildings in those towns devastated by the earthquake on Wednesday, 24 August, collapsed so easily.
At least 290 people are known to have died in the 6.2 magnitude earthquake, which centred on the town of Amatrice, and thousands more have been left homeless, many of them living in cars or tents in the mountains.
There is particular concern about why a school which was reinforced to withstand earthquakes at a cost of €700,000 (£600,000) collapsed, as well as the bell tower of Accumoli church which fell on a home killing a family of four.
The tower was supposed to be able to withstand earthquakes after renovation following a 1997 earthquake in the area.
In some parts of Italy the Mafia are heavily involved in local authority corruption, leading to shoddy construction and design, reports the Telegraph. Although there is no suggestion organised crime played a part at Amatrice, the Guardian is reporting that police are guarding the collapsed town hall to ensure records of construction contracts are not removed.
Chief prosecutor Giuseppe Saieva says property owners who commissioned work using substandard materials may face prosecution for contributing to the tragedy.
Saieva told La Republica many buildings appeared to have been built "with more sand than cement". He added: "They call it fate but if these buildings had been constructed as they are in Japan they wouldn't have collapsed."
A day of mourning took place across Italy for victims of the earthquake on Saturday, 27 August. Funerals took place for 35 of the victims in Ascoli Piceno, attended by President Sergio Mattarella and Prime Minister Matteo Renzi.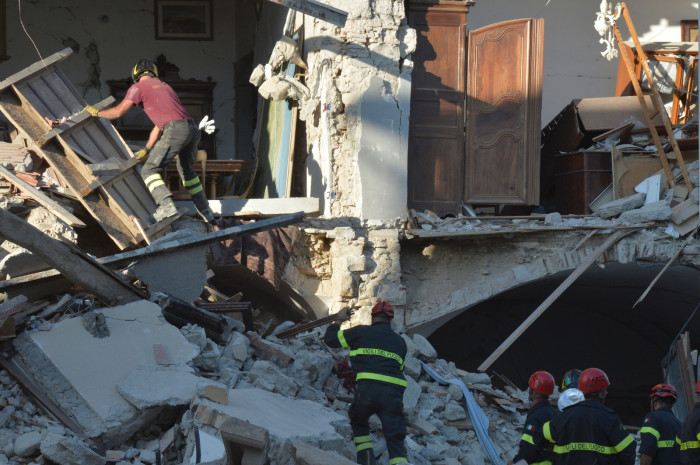 Some 6,600 rescue workers continue to search for survivors amid the rubble, but hope is fading fast with each passing hour.
"This city will become a museum city, for people to see that an earthquake happened here," rescue worker Arturo Filippi told CNN.