Criminals taking advantage of Mexico City earthquake to rob drivers evacuating city
Police receive reports of victims being targeted in traffic jams following 7.1 magnitude quake
Robbers in Mexico are using the chaos of the huge earthquake which has left hundreds dead to target people attempting to leave the area in their vehicles, according to reports.
The mass evacuation in Mexico City following the 7.1 magnitude quake cased huge traffic problems, especially in the Vasco de Quiroga Avenue area of Santa Fe, local media reports.
As a result, suspects have been approaching cars while they are stuck in the jams, robbing those inside.
Witness Joaquin Camino, 31, told El Universa he saw at least two men robbing a car that was attempting to leave the city.
He said: "They are taking advantage of the traffic [which] is stopped...two young people of no more than 25 years old, approached both sides of the vehicles and took things from the interior."
News of armed robberies in the area have also been reported by social media users in the city.
The Mexican Police Federation confirmed they have received reports of attacks in the area and are increasing their presence as a result.
At least 248 people have died after the earthquake hit near the Puebla state town of Raboso, on the 32nd anniversary of the 1985 earthquake, which left thousands of people dead in Mexico City.
Just hours before the quake hit, residents all across Mexico held earthquake drills to commemorate the 1985 disaster.
Rescue workers are continuing the mammoth mission to search for survivors in the rubble of destroyed buildings.
One of the more frantic searches involved the hunt for children following the collapse of the three-storey Escuela Enrique Rebsamen school in southern Mexico City.
So far, the bodies of at least 22 children and two adults have been pulled from the rubble, with another 30 children and 12 adults still missing.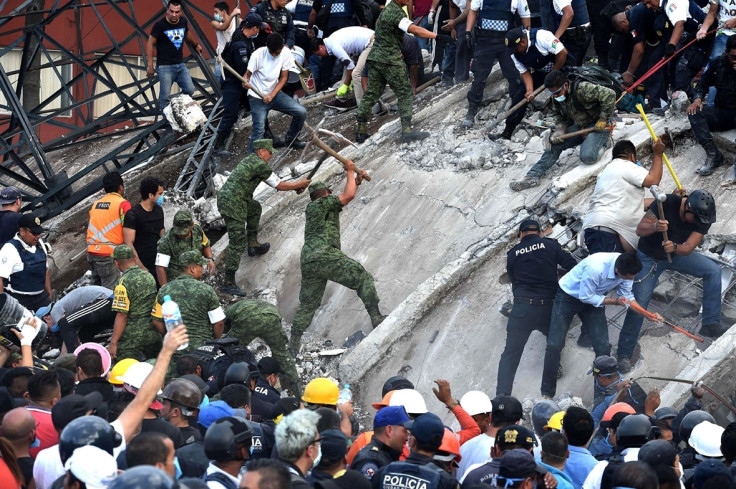 Describing the desperate search, volunteer rescue worker Dr Pedro Serrano told the Associated Press: "We can hear small noises, but we don't know if they're coming from above or below, from the walls above, or someone below calling for help."
Paying tributes to the vicitms, British Prime Minister Theresa May said: "My thoughts and sympathies are with all of those affected by the terrible earthquake in Mexico.
"The UK government is in close contact with the relevant authorities and we are ready to provide support in any way that we can.
"We are working to identify and support any affected British nationals as the recovery effort continues."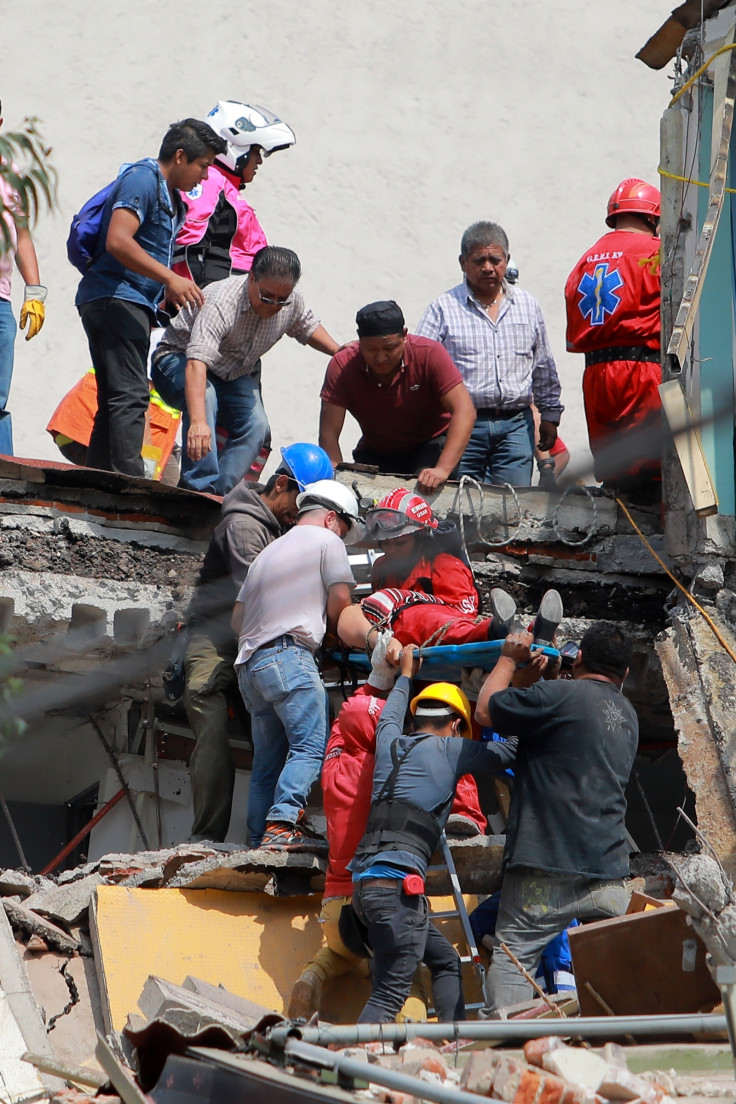 © Copyright IBTimes 2023. All rights reserved.