Cristiano Ronaldo is under renewed scrutiny at Real Madrid after the Portuguese star delivered another frustrating performance during the 3-2 loss to Sevilla on 8 November. Welsh wizard Gareth Bale had previously been fingered as the scapegoat for Los Blancos' failures over the past two seasons, but this time Spanish media has not failed to single out the current Ballon D'Or for criticism.
Questions over Ronaldo since his 2009 arrival from Old Trafford have tended to focus on his perceived ego or arrogance. However this time fans and media alike are questioning if the 30-year-old is past his best and whether he is still committed to the Santiago Bernabeu.
CR7 has done little to answer these doubters this season, failing to maintain his goalscoring record on the pitch and openly flirting with a move to Manchester United or Paris Saint-Germain off it.
The Portuguese international scored 48 goals in 35 La Liga appearances last season on his way to becoming top scorer. This season he has failed to find the net in seven out of the eleven games he has featured in, and without the goals scored in a 5-0 shellacking of Espanyol he would have just three strikes to his name.
The stats are one thing, but what has frustrated fans even more are the constant connections to a move away from the club.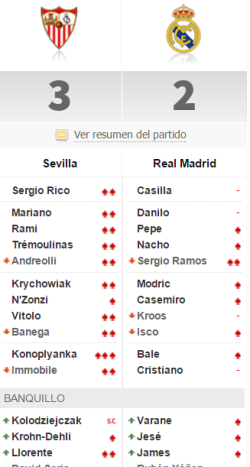 President Florentino Perez even reproached the star, prior to the Champions League tie with PSG, for his comments to the media regarding his future at Real. Following the game, Ronaldo was then seen to allegedly tell PSG manager manager Laurent Blanc he would "love" to play under him, in a conversation caught on camera.
Spanish press have renewed their attack on the player following his disappointing performance against Sevilla.
AS refused to even give him a grade in their match report, while head editor Alfredo Relano added in his daily column: "Cristiano played badly, almost as badly as he did against PSG. Not as badly because that's impossible, but enough to feed dark thoughts about his recent demarcations. Cristiano means so much, and has given so much to Real Madrid in competitive energy and goals, that losing him won't be easy."
Marca, meanwhile, agreed that Ronaldo was below par but also blamed manager Rafa Benitez for playing him out of position. The Spanish publication even listed seven reasons to worry about Ronaldo's form, pointing out he "is more concerned with his future – probably away from the Bernabeu – than his present".
Catalan media such as Mundo Deportivo and Sport, on the other hand, celebrated Ronaldo's poor form while pointing out that Neymar, who scored a brace against Villarreal on Sunday, now has a strong case as the world's second best player, behind Lionel Messi.