A record number of pooches from overseas are on show at Crufts, one of the largest dog shows in the world, taking place at the NEC in Birmingham.
More than 2,000 dogs from 42 countries outside the UK will take part in the four-day event, which ends this weekend.
Canines from Hong Kong, Iceland, India, Indonesia and Malaysia will compete for the first time, the Kennel Club said.
The biggest increase in overseas exhibitors was in 2002, two years after Britain's pet passport scheme began.
A total of 20,566 dogs have been entered for competition this year, with 2,131 coming from abroad, compared with 1,977 in 2011.
Some 251 are native to the Netherlands, with 231 arriving from each of the Republic of Ireland and France.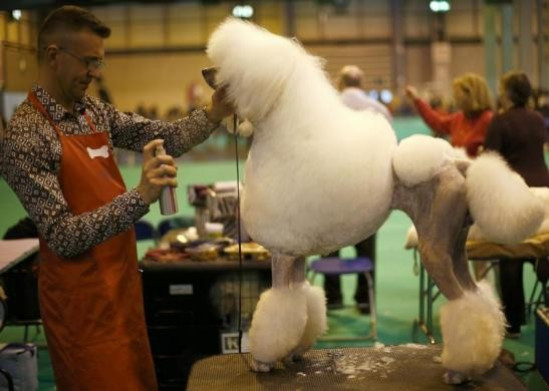 Around 5,000 dogs have been battling it out for the top two places in Sunday's prestigious Best in Show final, and also in the Toy and Utility groups.
Started by Charles Cruft in 1891, the show has been running for an impressive 123 years, and has seen more than 25,000 dogs compete.
However, Crufts has had a chequered past, and is still trying to put to bed accusations of overbreeding that have hampered its reputation over the past decade. The BBC pulled its coverage in 2008, and the competition is only returning to a major TV station - Channel 4 - this year.
In 2008, the RSPCA boycotted Crufts because of concerns within the organisation that the show's judging criteria encourage the breeding of "deformed and disabled" dogs.
The Kennel Club said the comments were "unhelpful" and denied the accusation that Crufts puts looks above the health of dogs. Its spokeswoman, Caroline Kisko, said the club was "dedicated to improving the health and welfare of dogs through responsible breeding and will continue to use Crufts as a platform to educate breeders and the public about the importance of joining us on this quest".
On Friday evening, possibly in a bid to be more inclusive, Crufts held the first ever final of the Scruffts Family Crossbreed Dog of the Year competition. The winner was the Prettiest Bitch, Becky owned by Margaret McKnight from Bangor, Northern Ireland. Becky was rescued along with her litter mates from the River Lagan, near Belfast, seven years ago
For the first time, the final of Crufts will be broadcast in the UK on Sunday 10 March on Channel 4, from 5.30-8pm, presented by Clare Balding.