'Crybaby' and 'lazy': David Law and Marc Rosset talks about Roger Federer's early years
Federer is considered to be one the greatest to play the game and a role model for emerging players.
The Swiss ace has won 19 men's singles Grand Slam titles.
Roger Federer is the example every upcoming tennis player is told to follow be it his achievements on the court or his behaviour off the court. The Swiss ace is considered to be one of the gentlemen of tennis – humble in victory and gracious in defeat.
The above is in reference to the 35-year-old 19-time men's singles Grand Slam champion, who has won hearts with his exploits on and off court across the world. However, it was not the same when Federer was growing up, he has been labelled a 'crybaby' and 'lazy' during his teenage years when he was just making his foray into professional tennis.
David Law, who was the ATP communications manager when Federer emerged on the professional circuit and former Swiss tennis star, and Olympic gold medal winner Marc Rosset have given an insight into the current world number three as a teenager and how he makes today's emerging generation look like saints.
Australia's Nick Kyrgios, who has been touted as a future Grand Slam champion, has had his fair share of run-ins with the tennis authorities for his antics on and off the court. The 22-year-old has been criticised for not taking the game more seriously, but according to the aforementioned duo, Federer was similar, if not worse at the start of his career.
"The number of times we would go to tournaments and he would throw in a substandard performance where he'd mentally break down or he'd get emotional and throw his racquets — he was a baby. Honestly, he was a crybaby on the court," Law says in a Tennis Podcast special, as quoted by news.com.au. "He was just immature and it took him a while (to grow up)."
Rosset, meanwhile, gave an account of his first practice session with Federer and the former world number one's first final, which he lost to his compatriot 7-6 in the third set at Marseille. The eight-time Wimbledon was said to have been very cavalier about his natural talent.
"I remember the first time I practised with him ... he was the new talented guy in Switzerland but he was so lazy," Rosset said. "Usually when you practise on the tour as a young guy you are a little bit stressed, you want to play good, you're very nervous. The guy came on the court like he didn't care at all. I was like, 'Wow'."
"The first time I played him was at a tour event in Marseilles and I won 7-6 in the third (set) and I remember it was his first final ever and he was crying at the ceremony and I was like, 'Come on, don't cry'," he added.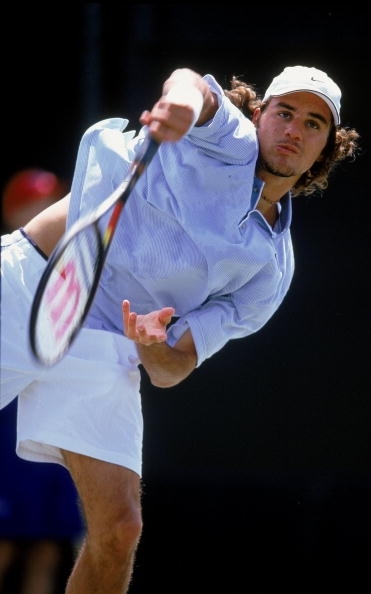 Law goes onto explain the reasons for Federer's change of attitude and how he went on to conquer the world of tennis. The Swiss ace is now regarded as one of the best to play the game after dominating the sport for over a decade.