Uncertainty over the fate of the Mt Gox bitcoin exchange led to a volatile weekend for the cryptocurrency, which fell from relative stability around the $925 (£565) mark, to less than $650 for the first time since mid-December.
The slump in bitcoin's value comes in the wake of an announcement by Tokyo-based MT Gox that it has temporarily blocked all withdrawal requests by its users.
Unable to get their money out as either bitcoins or real-world currency, users are angry and some believe the exchange has become insolvent, unable to meet withdrawal demands.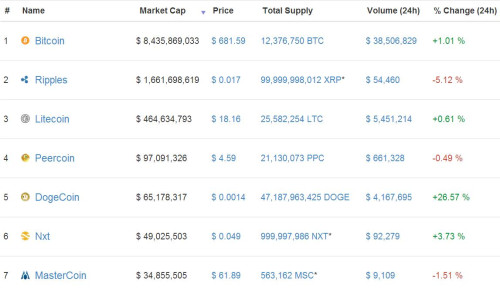 At the time of publication, bitcoin had recovered slightly to $681, while litecoin was at $18.16, down marginally on its price from last week. Meanwhile dogecoin had gained more than 26% in the last 24 hours, up to $0.0014 per coin.
Vertcoin, which showed regular triple-digit gains a week ago, has fallen significantly over the last five days, down from a high of more than $9 to its current level of $3.50.
The highest 24-hour gain was seen by bitgem, which soared more than 56% to $6.26 per coin, closely followed by devcoin, up more than 51% to $0.0006.
After causing a stir when it entered the market at $800,000, 42 Coin has remained stable in recent days and is currently at $118,665 per coin.
---
Mt Gox troubles spark three-day sit in protest by disgruntled customer
---
Although Mt Gox announced on 7 February that it would no longer provide currency withdrawals until "technical issues" were resolved, many users had reported a slow service and 'lost' transactions for several weeks beforehand.
One such customer is Reddit user CoinSearcher, who staged a three-day protest at Mt Gox's Tokyo headquarters from 5 February. The bitcoin user took a 16-hour flight from Australia to visit Mt Gox unannounced, where they demanded to speak to the exchange's owner, Mark Karpeles.
After waiting for several hours, CoinSearcher was greeted by Gonzague Gay-Bouchery, Mt Gox's manager of business development, who said the exchange was trying to fix the technical issues and did not have a liquidity problem - he added that users' coins were safe, with many held in 'cold storage' on computer not connected to the internet.
On their second day, CoinSearcher was given sandwiches and beer by Mt Gox employees.
After attending a local meetup with other bitcoin enthusiasts, CoinSearcher remarked: "There was a general consensus amongst the participants that Mt Gox was finished as an exchange. They acknowledged that Mt Gox had played an important role in propelling bitcoin to what it is today, but its decline and ultimate closure was inevitable."
After the third day of CoinSearcher's protest, Mt Gox announced the halt to all bitcoin and real-world currency withdrawals, blaming the same undisclosed technical issues.
CoinSearcher concluded: "I think [I] just witnessed Mt Gox die today. I didn't get my bitcoin, but glad I came and tried."
---
Russia takes stand against bitcoin use
---
Russian authorities have issued warnings against the use of bitcoin, stating virtual currencies could be used for money laundering, or even for financing terrorism.
The Russian Prosecutor General's Office said: "Systems for anonymous payments and cyber currencies that have gained considerable circulation - including the most well-known, bitcoin - are money substitutes and cannot be used by individuals or legal entities."
Russia's central bank also spoke out about bitcoin, saying trading the cryptocurrency is highly speculative and carried a big risk of losing value. "Citizens and legal entities risk being drawn - even unintentionally - into illegal activity, including laundering of money obtained through crime, as well as financing terrorism," it warned.
---
Dogecoin fans host Wall Street meetup
---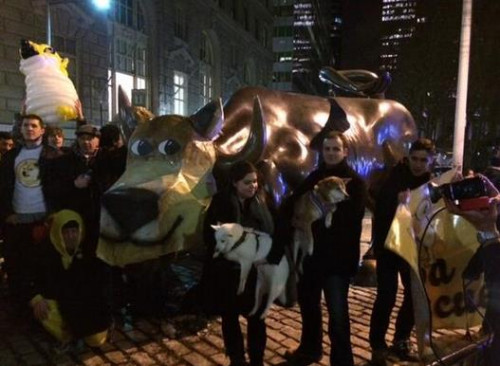 Users of the dogecoin cryptocurrency held a party in New York on Friday night, complete with DJ, dogecoin t-shirts, fancy dress, and even some Shiba Inu dogs, which feature as the currency's logo.
The assembled dogecoin fans attached a Shiba Inu mask to Wall Street's famous bull statue.