Three-quarters of people in some areas of England are obese or overweight, a new league table has revealed.
The data, which uncovers the country's fattest towns, cities and counties, has unearthed the extent of the obesity problem in England.
By region, the North East is the most obese region, with a shocking 68% of overweight people. The North West closely follows with 66%, while the West Midlands, East Midlands and Yorkshire and the Humber average at around 65%.
The research reveals Cumbria is the most overweight county with 68.3% people overweight or obese. In second place is Lincolnshire with 68.2%, while North Yorkshire (67.9%), Staffordshire (67.9%) and Northamptonshire (67.5%) follow.
By city, the most overweight local authority is Copeland in west Cumbria, with 75.9%, Doncaster in South Yorkshire is second with 74.4%. Third is East Lindsey in Lincolnshire with an average of 73.7%, while Ryedale in North Yorkshire has 73.7%. According to the data, the fifth most overweight authority is Sedgemoor in Somerset.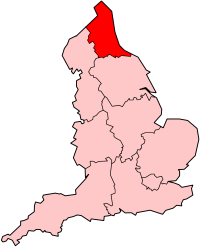 People with a body mass index (BMI) of 25 or over are classified as either overweight or obese. However, some scientists have said that BMI can not distinguish between fat and muscle, which tends to be heavier and can tip more toned individuals into overweight status.
It was recently announced obese people in Stoke-on-Trent will receive "motivational" texts from their local council giving them advice on how to lose weight. The project will last 10 weeks and cost £10,000. It will see 500 willing volunteers texted: "Use the stairs more."
At the other end of the scale, the thinnest local authorities include Richmond upon Thames with 47.6% and Kensington and Chelsea with 45.9%.
Tam Fry, from the National Obesity Forum, said: "The publication of these figures has to be welcomed because they will give local authorities a better chance of fighting obesity than did 15 years of tackling the epidemic from Westminster.
"County and town halls were handed the poisoned chalice of doing something about the epidemic only last April but were underfunded for the task.
"The overall figure of 64% for the country is bad enough but when figures rise to around 80% for some local areas, one has to believe that the problem may be insurmountable.
"The projection that 50% of the country could be obese before 2050 could unfortunately come to pass unless really radical steps are taken now by central government to tackle the problem."
Most overweight or obese local authorities
1. Copeland in west Cumbria (75.9%)
2. Doncaster in South Yorkshire (74.4%)
3. East Lindsey in Lincolnshire (73.8%)
4. Ryedale in North Yorkshire (73.7%)
5. Sedgemoor in Somerset (73.4%)
6. Gosport in Hampshire (72.9%)
7. Castle Point in south Essex (72.8%)
8. Bolsover in Derbyshire (72.5%)
9. County Durham (72.5%)
10. Milton Keynes (72.5%)
Most overweight or obese counties
1. Cumbria (68.3%)
2. Lincolnshire (68.2%)
3. North Yorkshire (67.9%)
4. Staffordshire (67.9%)
5. Northamptonshire (67.5%)
6. Essex (67.3%)
7. Derbyshire (66.9%)
8. Nottinghamshire (66.4%)
9. Norfolk (65.7%)
10. Worcestershire (65.5%)
Most overweight or obese regions
1. North-east (68%)
2. North-west (66%)
3. West Midlands (65.7%)
4. East Midlands (65.6%)
5. Yorkshire and the Humber (65.4%)
6. East of England (65.1%)
7. South-east (63.1%)
8. South-west (62.7%)
9. London (57.3%)