Cyber Monday: UK's Biggest Online Shopping Day Ever
Today, 3 December, is known as Cyber Monday and it is set to be the biggest online shopping day in the UK ever, according to figures released by Experian Hitwise and Visa.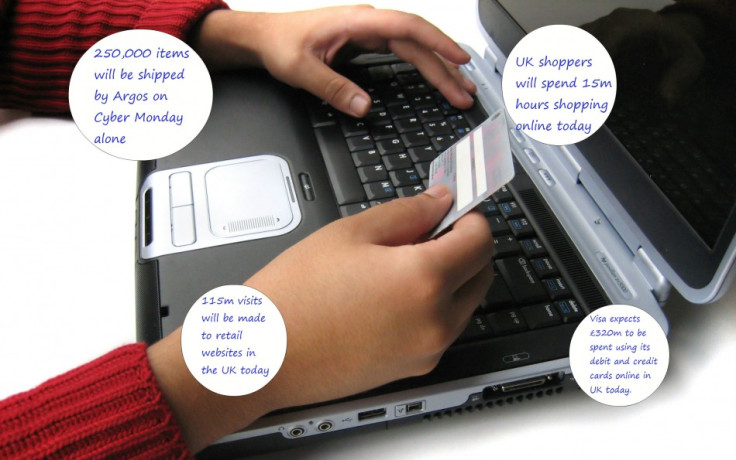 Cyber Monday Facts & Figures:
UK shoppers will spend 15 million hours shopping online today
115 million visits will be made to retail websites in the UK
250,000 items will be dispatched by Argos today
375 million hours spent shopping online in the UK this December
Today is set to be the busiest day of the year for online retailers as the Christmas season really kicks into gear, with over 15 million hours spent shopping online in the UK alone.
According to figures released by Experian Hitwise, an online tracking and research company, UK shoppers will spend 375 million hours shopping online during the month of December, 32 million more than were spent in 2011 - an increase of nine percent year-on-year.
Today alone will see 115 million visits to online retail websites, a boost of 36 percent compared to 2011.
2011 was a record breaking year for online retailers in the UK, with 2.18 billion visits to retail websites and 343 million hours spent shopping online over the 12 months. Cyber Monday last year, which fell on 5 December, saw almost 85 million visits to retail website recorded, Amazon and eBay were responsible for 28 per cent of all retail visits on this day.
"Christmas 2012 is on track to be another record-breaker for online retail, outstripping 2011 on all fronts," commented James Murray, Digital Insight Manager at Experian Marketing Services.
Transactions
Visa Europe has also released figures for Cyber Monday, with the company expecting 6.8 million transactions worth £320m to be made by its debit and credit card customers on online websites, in the UK.
The fact that today will be payday for millions of people across Britain will add to the amount of money spent online, as consumers look to get their Christmas shopping done as early as possible.
A lot of high street retailers are struggling, as more and more people move to do their shopping online, but others have managed to combine a high street presence with huge online sales.
John Lewis for example has seen its online orders growing at a rate of 40 percent this year, accounting for a quarter of the company's total revenue. Online sales last week alone hit £37.9m.
Marks & Spencer has also embraced the move to cyberspace and has this year hired 800 extra staff at their distribution centres, which handle the shop's online orders. On Cyber Monday last year the retailer recorded sales which were triple that of a typical Monday.
Volume
To give you some indication of the volume of items being purchased online today, Argos says it will dispatch more than a quarter of a million items today alone.
However it's not all good news for UK retailers. While online sales are set to rise by 17 percent in 2012, sales overall will rise by just 1 percent according to figures from Deloitte, highlighting the struggles some high street retailers are having - such as Comet.
© Copyright IBTimes 2023. All rights reserved.