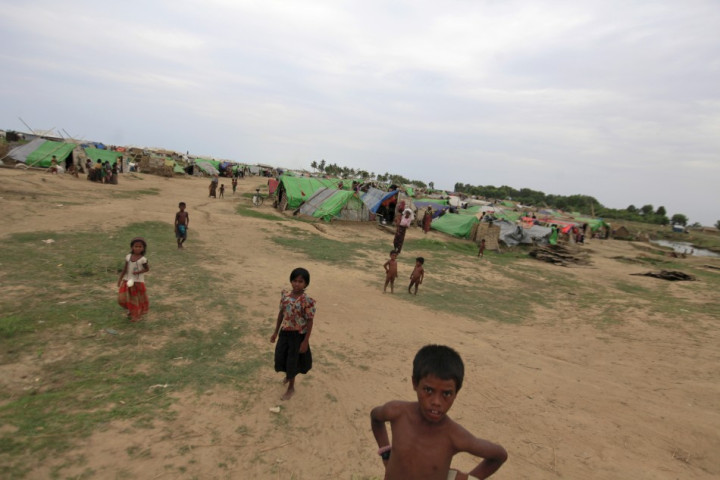 At least one boat carrying 200 Rohingya Muslims, who were trying to escape an approaching cyclone, has capsized off the coast of western Myanmar with dozens feared dead.
A group of up to five boats containing Rohingya, who were living in camps in Myanmar's Rakhine state after fleeing sectarian violence, left the township of Pauktaw, reportedly in search of a safer camp to shelter before the approaching Cyclone Mahasen, said the UN.
According to some reports, all the vessels sank.
Reports suggested that one boat had been towing the others and hit a rock, causing all the vessels behind it to capsize, James Munn of the UN Office for the Coordination of Humanitarian Affairs said.
Eight bodies have been found so far and 42 people have survived the incident, the UN said. More than 50 others are still missing.
Mahasen is the first tropical cyclone to hit the area in 2013, and is travelling northeast over the Bay of Bengal. It is expected make landfall somewhere between Bangladesh and Myanmar later this week, according to Nasa.
"The storm is expected to reach hurricane force by May 15 as it curves northwest," Nasa added. "Residents in Bangladesh and Burma should begin making preparations for storm surge, heavy rain and strong winds."
The UN and several human rights watchdogs had urged Myanmar authorities to evacuate displaced Rohingya from makeshift camps to safer ground ahead of a cyclone.
About 70,000 of displaced people live in low-lying camps along the coast that are highly susceptible to tidal surges and flooding, according to the UN.
"The government has been repeatedly warned to make appropriate arrangements for those displaced in Rakhine state. Now thousands of lives are at stake unless targeted action is taken immediately to assist those most at risk," Isabelle Arradon, Amnesty International's deputy Asia Pacific director, said.
Myanmar state television said yesterday the 5,158 people from camps in the Rakhine state capital, Sittwe, had been moved to safer shelter.
In 2008, Cyclone Nargis killed more than 130,000 people in Myanmar.