Cypriot Banks Reopen While Stock Exchange Remains Shut [VIDEO]
Banks reopened at 10.00 GMT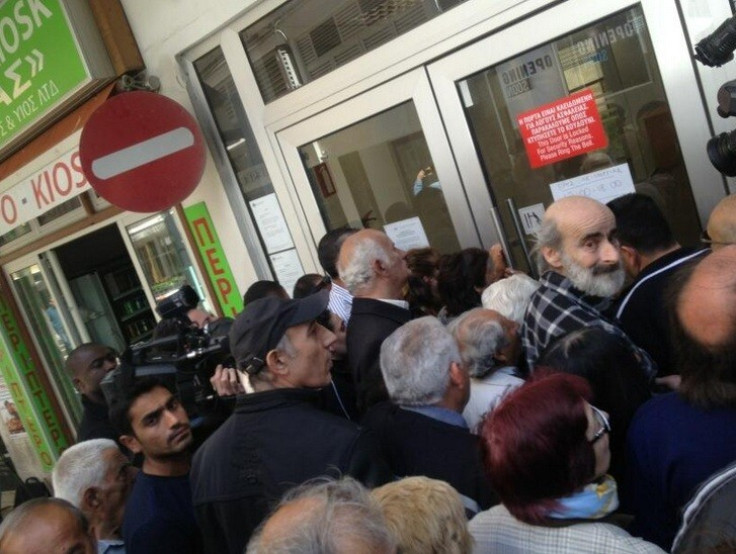 Cyprus reopened its banks at 1000 GMT, following a two-week long closure to prevent a run on deposits in connection with the country's bailout negotiations, while the Cyprus Stock Exchange will remain shut.
Customers will be bound by strict rules on daily withdrawals, credit card transactions, money transfers abroad and the cashing of cheques. The measures will make the country the first ever in the eurozone to apply capital controls, which include a €300 ($383 / £253) daily limit and a ban on cashing cheques, to prevent mass withdrawals.
The capital control measures are imposed as the country seeks to raise €5.8bn to qualify for a €10bn bailout fund from the so-called troika of international lenders - the European Union, European Central Bank and the International Monetary Fund.
The country's bourse also extended its almost two-week shutdown and will continue to remain shut from 29 March to 1 April.
Finance Minister Michalis Sarris said that the controls are in place due to the "lack of substantial liquidity and significant risk of deposits outflow, with possible outcome the collapse of the credit institutions."
In order to raise liquidity, the Cypriot banks will convert 40 percent of funds of depositors with more than €100,000 in their accounts into bank shares. Depositors with less than €100,000 funds will not lose any money, but will have limited access to their funds.
Further, the people will be prohibited from taking more than €1,000 in cash outside the country. Money transfers outside the Cyprus are also prohibited with a few exceptions and credit or debit card purchases abroad are capped at €5,000 a month.
Cyprus would review the measures after seven days and is likely to exempt some banks then, Sarris told the Financial Times.
Though Cyprus has a population of just 860,000 people, its banks have €68bn in deposits, as it became an offshore haven for deposits from foreigners, especially Russians.
Earlier, the Bank of Cyprus CEO Yiannis Kypri confirmed he had been dismissed by the Central Bank as head of the country's largest commercial lender.
"The reason I was given was that, based on the resolution decree recently passed by parliament and upon demands of the troika, an administrator had been appointed at the Bank," Kypri said in a statement.
An administrator was appointed after the bank was saved from collapse under a bailout for Cyprus agreed with the troika.
© Copyright IBTimes 2023. All rights reserved.